Life sentence for double rapist John Daly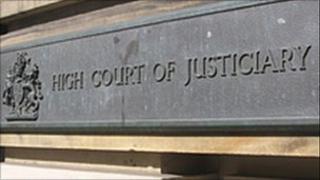 A convicted rapist who struck again shortly after his release from prison has been sentenced to life in jail.
John Daly attacked the woman in Rutherglen, South Lanarkshire, in April 2010 - after being freed early for the rape of a 17-year-old girl in 2005.
At the High Court in Edinburgh, Judge Lady Dorrian said the 24-year-old posed a high risk of reoffending and imposed an order for lifelong restriction.
It will be seven years before he can be considered for parole.
The court had heard earlier that the victim, who was a teacher, had been with family in Glasgow city centre as she was shopping for a dress for her sister's wedding.
She and her cousin met Daly and his friends, none of whom they knew, at a chip shop in the city's George Street at about midnight.
Daly and one of his friends asked the women back to the accused's flat in the Rutherglen area of the city and they agreed as they believed there was a party.
Daly poured drinks after they arrived and then told the woman he had served five years in jail for "stabbing someone".
Flat attack
The victim started to feel uncomfortable at this stage and wanted to go home.
Daly later said he had phoned taxis for everyone in his flat but had actually only called one for his friend.
The court was told that Daly then pounced on the woman and put his hands over her mouth before dragging her into his bedroom.
The court also heard how a neighbour heard "sounds of an attack" - but did not call police, partly because she had ran out of credit on her mobile.
After the attack, Daly told the victim: "I can't believe I have done this again. I'm just out of jail for five years for doing that. I am sick in the head."
Daly was later detained at a city centre nightclub in the early hours of 10 April.
He told police he had intended to jump off a bridge after the rape, but then decided to have "one last day".
Daly was jailed for seven years and three months in 2005 for raping a 17-year-old schoolgirl in a deserted church graveyard in Lanarkshire.
Sentence for the latest rape had been continued for Lady Dorrian to get background reports - including an expert opinion on the risk Daly poses to the public.
The judge had also been waiting for appeal judges to examine the rules for calculating the minimum jail term for those given discretionary life sentences or orders for lifelong restriction.
'Serious offence'
Passing sentence, Lady Dorrian told Daly that background reports made it clear that he was a danger to the public and must remain under supervision for the rest of his life - after the parole board decides it is safe to free him.
The judge said he had committed "a grave offence", adding: "This is the second serious offence of this nature."
Lady Dorrian's judgement was the first to be delivered in a Scottish Court under new rules for calculating minimum sentences in such cases.
It followed a landmark legal ruling by a majority of appeal court judges on Tuesday which effectively reduced the minimum prison terms for serious offenders.
Lady Dorrian gave Daly a long explanation of how his minimum sentence was calculated.
The "discounts" she allowed him were not as generous as they could have been.
The sentence also takes into account Daly's early release from his last sentence for rape.