Spanish driver admits 'wrong way' death crash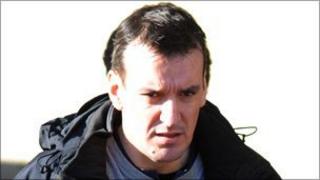 A Spanish man is facing a prison term for causing the death of an 80-year-old woman in a head-on crash, after driving on the wrong side of the road.
Pedro Noche's Mitsubishi pick-up truck ploughed into the car in which Margaret McIlroy was a passenger on the A714 at Pinwherry, South Ayrshire, in May 2010.
At the High Court in Glasgow, the 38-year-old admitted causing death by dangerous driving.
Judge Rita Rae QC continued Noche's bail until sentencing next month.
The court heard that on the day of the crash, Mrs McIlroy had been returning from a caravan break with her daughter and son-in-law, Sandra and James Coyle, grandson James jnr and a nine-year-old boy.
They were travelling in a Citroen Xsara being driven by Mr Coyle.
As they came round a tight bend on the A714 at High Alticane Farm, Pinwherry, Noche was driving towards them on the wrong side of the road in his work's pick-up truck.
Mr Coyle tried to steer away but collided head-on with the Mitsubishi.
Immediately after the crash, Noche got out to try to help those trapped inside the Citroen.
Chest injuries
One witness who spoke to him at the scene said the Spaniard said in broken English he was sorry and that he was accustomed to driving on the other side of the road.
The occupants of the Citroen all had to be cut free and Mrs McIlroy was airlifted to hospital.
The pensioner, from Port Glasgow, Inverclyde, lost consciousness during the journey and later died as a result of chest injuries.
Mrs McIlroy's daughter suffered a fractured collarbone while her son-in law was treated for injuries to his chest and feet.
Grandson James jnr was also hurt and the nine year-old boy needed a metal plate put into his arm.
Witnesses later told how Noche had been travelling on the wrong side of the road for up to half a mile prior to the crash.
The incident happened shortly after the Spaniard arrived in Scotland to start work at a wind farm.
Noche, of Girvan, Ayrshire, will be sentenced in April.