Murdered teenager Zoe Nelson's body 'like mannequin'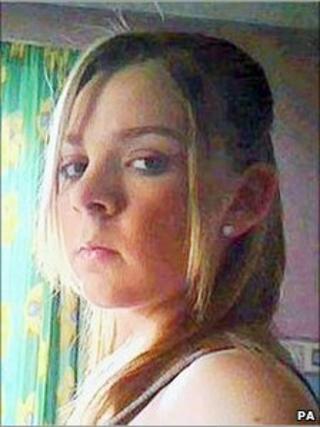 The trial of a man accused of murdering a teenager and burning her body has heard how a motorcyclist who discovered her corpse thought it was a mannequin.
Stuart Bell, 45, told the High Court in Edinburgh he soon realised it was a human body and called the police.
He was giving evidence in the trial of 21-year-old Robert Bayne.
He denies murdering 17-year-old Zoe Nelson in woods in Wishaw, North Lanarkshire, on 22 May last year and setting fire to her body.
The second day of the trial heard that Mr Bell, a civil servant who lives in Wishaw, had taken his motorcycle into an area of woodland near his home.
He made the sighting after he slowed down to approach an area of hawthorn bushes and a steep slope.
"I saw what looked to me at that time as a sort of charred tailor's dummy," he said.
But his opinion changed as he made his way down the hill, the court heard.
"From there I discovered it wasn't a tailor's dummy as I first thought. It was real."
Mr Bell said he got off his bike and ended up standing within 1ft or 2ft of the body.
Burned body
"At first I thought it was a mannequin and what struck me was the leg, possibly the left leg," he said.
"I could see bone there. Tailor's dummies don't have bones."
He said one of the hands was in a "good condition", but added: "It appeared that the lower half was pretty badly burned away. With the other half, most was there, but there was charring and that sort of thing."
Mr Bell said he stayed at the site for about 20 seconds before he "took off" and went straight home to phone the police, who arrived 15 to 20 minutes later.
"I shouted up the stairs to my wife that I'd found a body in the woods and just immediately phoned the police," he said.
A recording of the phone call Mr Bell made to the emergency services was played to the jury.
In it, he could be heard saying: "I came across a body down the back of where I live. It's burned."
Mr Bayne denies attacking Ms Nelson with a knife, putting a plastic sheet over her head to restrict her breathing and then setting fire to her.
The trial, before a jury of eight men and seven women, continues.