Murder trial told Robert Bayne 'fought with' Zoe Nelson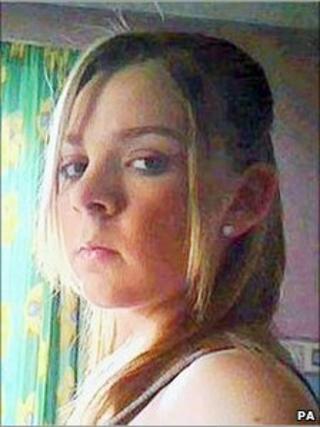 A murder trial has heard how a teenager, whose burned body was found in woods, told friends she had been hurt while fighting with the accused.
Teenage friends of Zoe Nelson told the court that a week before she died, Zoe had said her scratches and bruises were sustained in a fight with Robert Bayne.
They were giving evidence in the trial of 21-year-old Mr Bayne.
He denies murdering Zoe Nelson, 17, in Wishaw, North Lanarkshire, on 22 May last year and setting fire to her body.
Jade Campbell, 17, from Coltness in Wishaw, told the third day of the trial at the High Court in Glasgow that she saw Ms Nelson's injuries when she had some friends round to her house to get ready to go out.
Body injuries
She said Ms Nelson had a swollen jaw and explained she had been "fighting" with her ex-boyfriend.
"She (Ms Nelson) said his name was Rab," said the witness, adding that her friend said she also had bruises and scratches on her side and legs.
Kelly Marie McCafferty, 16, who was also at the house, said the gathering was on Friday 14 May 2010.
She recalled that Ms Nelson had bruises on her face and body, saying she told her friends she had "been fighting with Robert Bayne the night before".
The court also heard from 18-year-old Stacey Hutchison, who described herself as a close friend of Ms Nelson.
She said Zoe and another friend had met up at her home in Shotts on Friday 21 May last year.
The court was told that towards the end of the night, Ms Nelson was on the phone to her sister and Mr Bayne's name came up in the conversation.
Ms Hutchison said: "She (Ms Nelson) said that was the guy she used to go out with. Her sister said she was with Robert. Zoe got very angry about it."
The witness went on: "After speaking to her sister, she spoke to Robert on the phone. She was saying that he must not hurt her sister or she would get very angry at him."
'Controlling boyfriend'
The witness also told the court that Mr Bayne told Ms Nelson he loved her during the conversation, but that she did not seem pleased about it.
Lesley Shand QC, prosecuting, asked Ms Hutchison if Ms Nelson had ever said anything about what Mr Bayne was like when he was with her.
"She said he was very controlling," replied the witness, adding: "She wasn't allowed to hang about with certain friends."
Mr Bayne denies attacking Ms Nelson with a knife, putting a plastic sheet over her head to restrict her breathing and then setting fire to her.
The trial, before a jury of eight men and seven women, continues.