Glasgow Caledonian University to cut up to 95 jobs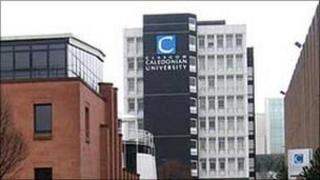 Glasgow Caledonian University has confirmed it is to cut up to 95 jobs in a bid to save £5m from its annual running costs.
Management want to merge the university's six existing departments - or "schools" - into three larger ones.
They hope to make the savings through voluntary redundancy but cannot rule out compulsory job cuts.
Unions have vowed to fight the job losses, which they have described as "inexplicable and inexcusable".
Glasgow Caledonian currently has six academic departments - built and natural environment; Caledonian business school; engineering and computing; health; life sciences and law and social sciences.
Under new proposals, these would be merged into three larger schools - health and life sciences; engineering, computing and the environment; and business, law and social sciences.
Savings target
Those jobs most at risk in each department are in senior management, administrative and support services, and marketing and human resources.
The university said it needed to make savings of £12m per year by 2014 due to cuts in funding from central government.
It has already made £5m, with £7m still to find. The latest proposed savings, if achieved by July 2012, would meet £5m of that balance.
In a statement, Glasgow Caledonian said: "The university's governing body has approved plans to begin a 90-day consultation on proposals to re-profile and restructure its administrative and support services.
"While the university would seek to make changes by voluntary means wherever possible and in consultation with staff and their representatives, the proposals currently being consulted upon could see a reduction of up to 95 administrative and support posts.
"The university's academic and service-based activities are continuing as normal during this time and final proposals will be submitted to the governing body for consideration. It is hoped that this will take place on 6 June 2011."
Glasgow Caledonian currently employs 1,613 staff, so the proposed jobs cut would affect about 6% of the workforce.
Senior pay
The university's combined union committee condemned the proposals and highlighted that they had emerged in the same week that senior management pay levels at the institution had been described by one MSP as "disgraceful".
Committee convenor, Dr Nick McKerrell, said: "These job losses are both inexplicable and inexcusable at Glasgow Caledonian University.
"Some 300 jobs have already gone in the last four years. To lose 95 more frontline posts will have a catastrophic effect on staff and students.
"The trade unions will hold an emergency summit early this morning (Friday) to plan their next steps and protests. Management will not know what has hit them."