Baseball player jailed for smuggling £1.28m of cocaine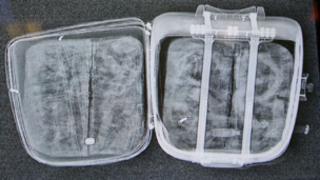 An unemployed baseball player who admitted trying to smuggle £1.28m of cocaine into Scotland from the United States has been jailed for eight years.
Mexican national Juan Guerrero was caught with the drug in his suitcase at Glasgow Airport in October last year.
The High Court in Edinburgh heard how the cocaine, which was 89% pure, had to be extracted from white-coloured foam.
Judge Lady Smith also recommended that the 37-year-old be deported after he had served his sentence.
An earlier hearing at the High Court in Glasgow heard how UK Border Agency officials (UKBA) became suspicious as Guerrero was travelling alone under a new passport and had flown from Tuscon via Houston and Newark to Glasgow.
Suitcase x-ray
When he was stopped at baggage control and asked if there were any drugs in the suitcase he shrugged.
It was noted that when the UKBA officers removed his clothes and personal belongings from the case it was still very heavy.
An x-ray showed that items were concealed in the lid and the base of the case.
The court was told that the lid and suitcase base were ripped open and five silver foil wrapped packages were removed.
These were found to consist of several layers. The first was silver foil, the second was black oil, the third was carbon paper and the fourth was a layer of plastic.
Inside the plastic layer there was a quantity of white-coloured foam which had a strong chemical smell.
A sample of the foam was examined and found to contain cocaine.
In total, Guerrero had been transporting 2,105 grammes of cocaine which was extracted from the foam.
The court was told that if this was cut down to 5% or 6% - typical street purity in the west of Scotland - it had a potential street value of up to £1.28m.
The court heard how the former semi-professional baseball player had worked in various jobs but had been unemployed since June last year.
He claimed that he got involved in drug smuggling to pay for repairs to his family home and to cover medical bills.
Lady Smith told Guerrero, who followed proceedings though an interpreter, that she would have jailed him for 12 years, but for his guilty plea.
"You were fully aware of what you were doing. Your actions involved deliberate planning," she said.
"I am told you travelled via Tuscon, Houston and Newark in the USA, a deliberately circuitous route, where it was thought security might be less rigorous than others and from there you came to Glasgow.
"Had you not been detected through the careful work carried out by certain officials at Glasgow Airport it appears that this substantial quantity of cocaine would have been released into the hands of those who perpetrate and profit from illegal drug supplying in London."