Three men face trial over drill attack in Stepps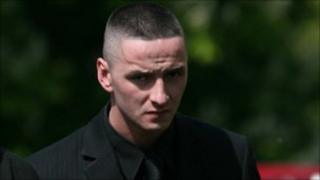 Three men are to stand trial over an alleged power drill attack on a 26-year-old man in North Lanarkshire.
Robert Kirkwood, 26, Charles McCormack, 28, and Michael McCormick, 22, are accused of assaulting James Hanlon to his severe injury in Stepps.
At the High Court in Glasgow, lawyers acting for the trio entered not guilty pleas to the charges, alleged to have happened in August 2010.
Judge Rita Rae QC adjourned the case. Trial is expected to begin in May.
The offence is alleged to have occurred in Cumbernauld Road and Lowland Court, both Stepps, on 22 August.
Car allegation
It is claimed a vehicle was driven into a car that contained Mr Hanlon and another man, Christopher Milligan.
The car was then allegedly hit with a drill before Mr Hanlon was dragged out onto the ground.
The accused allegedly punched and kicked him then repeatedly struck him with the tool on the head and body.
It is claimed this was to Mr Hanlon's severe injury, permanent disfigurement and to the danger of his life.
The accused are said to have previously "evinced malice and ill will" towards him.
Mr McCormick also faces a charge of dangerous driving and an allegation that he reset a car used in the attack.