Zoe Nelson's aunt tells murder trial she smelled smoke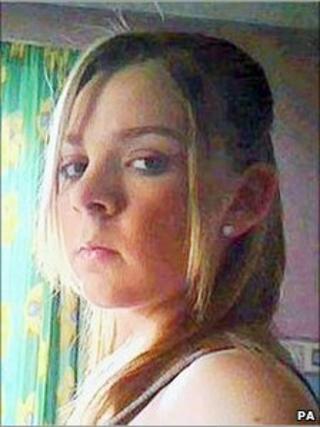 The trial of a man accused of murdering a teenager and burning her body has heard how the victim's aunt "smelled smoke" before her body was found.
Shirley Nelson, 35, told the High Court in Edinburgh she noticed the smell at the back of her home in Newmains, North Lanarkshire, on 22 May last year.
The following day, the charred body of her 17-year-old niece, Zoe Nelson, was found in nearby Wishaw.
Robert Bayne, 21, denies murdering the teenager and setting fire to her body.
Care assistant Ms Nelson told how she was sitting in her garden in Newmains, Lanarkshire, after going for a drink that evening when she finished a back shift at work.
She said that she sat at the back of the house with her sister until about 2300 GMT when it became cooler.
"We smelled smoke" she told the trial. "We didn't think anything of it because it was warm and everything."
Ms Nelson said the following day she heard that other members of the family were trying to contact Zoe and so she tried to call her mobile phone as well - but none of the calls were answered.
The trial previously heard how Zoe's badly burned body was discovered during the afternoon of 23 May last year near Branchalfield Drive, Cambusnethan, Wishaw, in woodland known locally as Monkey Hill.
The teenager had been studying mechanics at Motherwell College.
Other witnesses told the trial they saw Zoe and Mr Bayne together during 22 May last year - and they seemed to be arguing.
Paul Denholm, 22, who knew Zoe from Motherwell College, said he saw her walk past his garden in Newmains in the company of a man with a tattooed face.
Mr Denholm told police later: "There was a guy 10 metres in front of Zoe but it was obvious they were together because he was turning back and talking.
"They looked as if they were arguing. That was the impression I got."
'Looked angry'
Mr Denholm agreed with defence QC Neil Murray that although he thought the couple were arguing there was no shouting or gesturing.
Kelly McAdam, 25, who works in a sun bed shop, said she saw Zoe and Mr Bayne near Zoe's home in Newmains, together with Zoe's sister, Laura Anne.
Asked to describe Mr Bayne then, she told the trial: "He just looked angry."
Mr Bayne was walking away and Zoe was following him when he punched a lamp post, said Ms McAdam.
The accused denies attacking Ms Nelson with a knife, putting a plastic sheet over her head to restrict her breathing and then setting fire to her.
The trial being heard by Lady Dorrian, before a jury of eight men and seven women, continues.