Prestwick Airport sees drop in winter passengers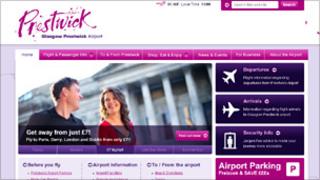 Prestwick Airport has suffered a sharp decline in passenger numbers this winter, down by 40% in recent months.
Since Ryanair cut back on its winter schedule, the Ayrshire airport has shed about 40 staff, out of more than 400, some by compulsory redundancy.
The air hub has been boosted by bad winter weather, forcing diversions from snow-bound inland airports.
But that has been overshadowed by Ryanair focusing traffic from north and central Europe on Edinburgh.
Domestic traffic has fallen steeply, and there are fewer flights linking to Stansted.
Passenger traffic in January fell to 61,000 from 103,000 in January 2010. In the previous two years, passengers for that month were at 131,000 and 145,000.
Ryanair's new strategy is to use the Ayrshire airport more for outbound summer holiday flights, though with this year's capacity down on last year by about 15%.
That has meant Prestwick expects to hire about 60 seasonal workers.
The number of aircraft rotations with the start of the summer timetable this month is falling from 138 per week during last summer to 120 this summer, while it currently has about 60 in the winter schedule.
Tax issue
While looking for other airlines to use the airport - Wizz is the only other significant operator, linking to Gdansk and Warsaw - its operators fear the rise in air passenger tax will hurt business further.
Prestwick is owned by Infratil, an infrastructure investment company based in New Zealand.
Its most recent results for the year to last March show a loss of £3.6m in operations at its European airports, including Prestwick, Kent and, for part of that year, Lubeck. In the year to March 2009, the loss topped £7m.
Iain Cochrane, managing director of Prestwick Airport, said the sunshine destination market was "more seasonal but reasonably predictable, in terms of the Scottish desire to go to the sunshine".
But he added: "It's a very difficult market at the moment. Taxation is a big issue and with economic uncertainty, people's discretionary spending could be curtailed.
"It's difficult to see a huge increase in traffic in the next few years."