Old Firm unite over anti-bigotry plan after summit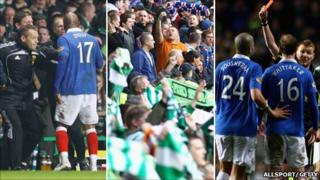 A task force to explore match scheduling and a police pledge to target internet bigots are among measures announced following a summit into Old Firm-related disorder.
The body will look at when Old Firm games are played and whether banning orders could be extended to fans who misbehave away from grounds.
The clubs issued a joint plan to tackle bad behaviour surrounding the fixture.
And police will look at addressing "public order" issues on web forums.
The Strathclyde force requested the summit after describing scenes at last week's Celtic versus Rangers game as "shameful".
The game saw three red cards, several touch-line and tunnel confrontations and 34 arrests inside Celtic Park during a volatile Scottish Cup tie, which Celtic won 1-0.
Six-point plan
Representatives from both clubs, the Scottish Football Association (SFA) and Strathclyde Police attended the meeting in Edinburgh on Tuesday.
Rangers and Celtic detailed a six-point plan agreed by both clubs:
The creation of a stand-alone pan-Scotland police football intelligence unit as part of the ongoing review of police forces in Scotland;
Greater enforcement of existing legislation to deal with sectarianism and drink related offences;
The establishment of a task force comprising senior police officers, government representatives and club security personnel to deliver more consistency in policing of football matches across Scotland;
A detailed academic study into the extent of the linkage of football to violent crime committed domestically and in the community;
Celtic and Rangers will commit to playing an enhanced role in a partnership approach to encourage responsible drinking;
A re-enforced code of conduct for players and officials;
Celtic's chief executive Peter Lawwell said: "Football doesn't work alone - in society here in Scotland we are blighted by multiple deprivation, alcohol abuse and violence.
"I think we do understand and accept that around an Old Firm game violence and domestic abuse does take a hike and we must address that."
His counterpart at Rangers, Martin Bain, said: "There is undoubtedly major issues for Scottish society. With the best will in the world they can't be blamed on a football club, or cured by a football club.
"But we will do everything we can to help and I think the six-point plan that we've devised today will be of assistance and illustrate a way forward."
Following the summit, First Minister Alex Salmond also announced that all parties had agreed eight broad measures to improve behaviour surrounding the fixture.
These include:
widespread agreement that existing rules and regulations are consistently applied and respected;
to explore practicalities of new scheduling for the Old Firm fixture;
to introduce tough new measures to cut alcohol consumption before and after games;
to insure all those involved in matches are aware of their responsibilities - this will involve a pre-match briefing from police to players and managers;
to support the expansion of community and social partnerships between the Old Firm clubs;
to support all work to address sectarianism;
to look at measures to extend the scope of football banning orders; and
to look at greater public order policing of the internet.
Mr Salmond said an extra £500,000 would be committed to anti-sectarian and anti-racist organisations.
'Joint responsibility'
He said: "The meeting emphasises not just measures that can be taken in the short term - it emphasises the joint responsibility to envisage football as a force for good in Scottish society and the potential it has.
"It is our national game, it has enormous prestige and the willingness that was demonstrated by clubs and associations today, to see football in that context and to broadcast that message, was extremely encouraging.
"I am sure that each and every one of us recognises that today is not the end of a process but very much the beginning of a series of action which will allow us to develop football as a force for good in Scotland."
Stephen House, the chief constable of Strathclyde Police, welcomed the opportunity to explore match rescheduling.
His force has analysed the number of offences committed when games are held at weekends compared to weekdays, over a three-year period from 2007.
It said there was a 172% rise in violent offences when a match is played on a Saturday, compared to an average Saturday where there is no fixture.
This falls to a 65% rise in violent crimes committed when the Old Firm have a weekday game.
A statement from the force added: "Looking at domestic violence, the Saturday effect is a 138.8% rise in offences. For Sunday it is a 96.6% rise, and for weekday evenings the rise is 56.8%."
Mr House said: "Obviously we expect everybody involved in football to set the right example in the stadium.
"But the key priority for me is the levels of violence across the whole of the west of Scotland that are associated with Old Firm matches."