Sweden suicide bombing suspect faces terror charges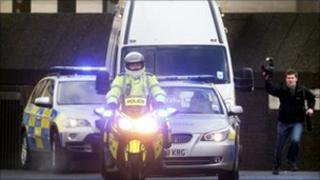 A 30-year-old man has appeared at Glasgow Sheriff Court in connection with a suicide bombing in Sweden.
Ezedden Khalid Ahmed Al Khaledi, described as a Kuwaiti national, faces three charges under the Terrorism Act and five others under immigration laws and banking regulations.
He made no plea or declaration and was remanded into custody.
Two people were hurt in two explosions in Stockholm in December. A man with an explosive device was later found dead.
The Stockholm bomber was named as 28-year-old Iraqi-born Taimour Abdulwahab al-Abdaly.
He had settled in Luton with his wife Mona, with whom he had three young children - two girls and a boy.
The attack was believed to be the first suicide bombing in Sweden's history.
Police raid
Detectives have been investigating whether Abdaly was supported by others or acted as a lone attacker.
Mr Khaledi was arrested following a police raid on the 19th floor of a block of flats in the Whiteinch area of Glasgow on Tuesday 8 March.
A convoy, flanked by armed officers and watched from a police helicopter, escorted him to the private hearing in Glasgow Sheriff Court.
Proceeding were translated into Arabic for him.
The first charge against him alleges he provided money for Abdaly.
He is also accused of possessing money and bank cards which could have been used for terrorism, and with entering into an arrangement to provide money for terrorist purposes.
Mr Khaledi also faces a charge that he falsely claimed to be a Kuwaiti national so he could claim asylum and benefits in the UK and of fraudulently opening bank accounts.
He is expected to return to court next week under conditions of high security.