Deaf woman jailed for Linwood knife attack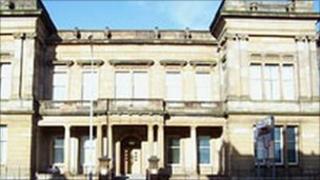 A deaf woman has been given a 15-month sentence for stabbing a man while on bail for attacking a police officer with a knife.
Patricia Martin, 48, of Linwood, left Andrew Finnegan severely injured after the attack in her home in October 2010.
Martin, who is also unable to speak, was jailed for 32 months in November for the attack on the police officer.
Paisley Sheriff Court heard both crimes were committed out of her frustration at being unable to communicate.
The two sentences are to be be served consecutively.
Martin stabbed Mr Finnegan in the back and chest when he got involved in a fight with her partner during a drinking session at her house on Muirhead Drive.
Solicitor Jonathan Manson previously told the court the original offence was committed when police went to her door and she lashed out in frustration at not being able to communicate properly.
The police officer was not seriously injured.
Sheriff David Pender said: "None of us can really understand the frustrations of being unable to communicate with those with whom you come into contact on a daily basis.
"While there can be no doubt that in normal circumstances the sentence which would be appropriate for an offence such as this - particularly as it was committed while you were on bail for a similar offence - would be substantial, it seems to me that would not be in the public interest."
The court heard she would have been sent to Cornton Vale prison if the latest jail term imposed had exceeded 16 months.
Mr Manson said Martin, who is currently serving her sentence in Greenock prison, felt isolated and vulnerable when she was on remand at Cornton Vale as no members of staff used sign language and she was unable to communicate with anyone.
Martin was also given a seven-month supervised release order.