Scottish SPCA appeal over 'horrific' Glasgow dog death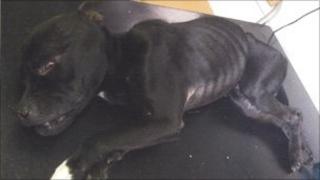 An animal charity has appealed for help in tracing the owner of a dog which died in "horrific" circumstances after a "serious case of neglect".
The Scottish SPCA said the emaciated remains of the animal were found in an empty house in Glasgow's Castlemilk area on 2 March.
Inquiries have confirmed that the dog, which appeared to be a Staffordshire bull terrier type, was called Thor.
The tenant is believed to have left the property before Christmas.
The charity said housing association employees discovered the dog in a basket under a pile of blankets while clearing the house on Stravanan Road.
'Severely emaciated'
Scottish SPCA senior inspector, Billy Linton, said: "This dog was severely emaciated. It is unclear when the dog died but no-one had seen anyone attend the property since Christmas time.
"We have been able to establish that the dog's name was Thor. This is a serious case of neglect and we are keen to find the person responsible for causing this dog such horrific suffering.
"Unfortunately, our investigations have not led us to the dog's owner so we are asking the public to help us identify them."
The dog is described as black, with a white front paw and white on his chest.
Anyone with information on the dog's owner is asked to contact the Scottish SPCA.
Anyone convicted of causing an animal unnecessary suffering could face a fine, a ban on keeping animals or even a prison sentence.