Hundreds attend Glasgow University disorder meeting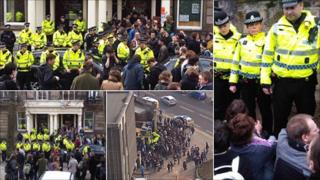 The principal of Glasgow University has met with about 500 students to discuss unprecedented scenes of campus unrest following attempts to end a sit-in.
Professor Anton Muscatelli has already announced an inquiry into the disorder which broke out on Tuesday after the Hetherington building was cleared.
Dozens of police were deployed after students staged a protest at the forced end to their anti-cuts sit-in.
They oppose plans to drop and merge courses in a bid to save £20m by 2014.
The seven-week sit-in began on 1 February as part of a student campaign against the proposed cuts, which would also lead to job losses among academic and administrative staff.
Stand-off
The university said most people involved had agreed to a request to leave so the Hetherington building could be refurbished for academic purposes.
But when security staff attempted to evict the remaining protesters on Tuesday, a stand-off developed which saw at least 40 police deployed along with more than a dozen vans and the Strathclyde force helicopter.
Students later marched to the university's main administrative building and staged an occupation there.
They agreed to leave after management struck a deal to allow them to reoccupy the Hetherington.
Student representatives later described the tactics used by police and campus security as "heavy handed".
Strathclyde Police denied this, saying any suggestion the response was disproportionate was "frankly ridiculous".
Professor Muscatelli said on Tuesday that an inquiry, led by representatives of the university court, senate and student representative council, would be held into the disorder.
This is likely to report back before the end of the academic year in June.
In a letter to students and staff, he also expressed his "regrets" over Tuesday's events and acknowledged concerns that the actions by police and university security were "excessive and unnecessary".
Friday's meeting in Bute Hall was chaired by the university's rector, Charles Kennedy MP.
Speaking afterwards, Professor Muscatelli said: "The meeting was called in order to build better communication and a greater understanding with our students.
"It enabled senior staff to directly listen to the concerns about events on Tuesday at the Hetherington Club and also to discuss the wider funding situation facing the higher sector.
"I am pleased that the meeting was so well attended and that students took the opportunity to speak directly to my colleagues and I.
"We understand that the events of Tuesday caused anxiety to both students and staff and we were keen to address those concerns in an open and transparent way."
Tommy Gore, president of Glasgow University Students' Representative Council, said: it was good to see so many people at the meeting.
"It's a clear indication that students and staff at this university share concerns about the direction in which higher education funding in Scotland is heading," he said.
"It's very concerning that attention is now beginning to be diverted away from the key issues here and towards partisan campus politics.
"The consultation looking at the proposed cuts to courses and departments here at the university, and the severe lack of funding for higher education in Scotland should remain the focus of, and continue to consume the attention of, the student body."