Judge backs Helen McGlone's £5m smear test claim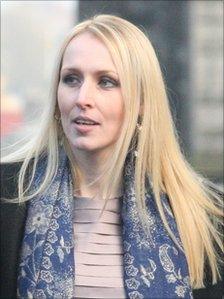 A woman who had a hysterectomy after smear tests did not lead to a cervical cancer diagnosis has been told she can continue a £5m damages action.
Helen McGlone, 31, claims that if her tests had been correctly interpreted she could have been treated earlier, avoiding the need for radical surgery.
NHS Greater Glasgow and Clyde claimed this would have made no difference.
A judge has backed Ms McGlone's case, clearing the way for further hearings to decide the size of any award.
Ms McGlone, who now lives in Falkirk, gained first class honours in physics and applied mathematics at Glasgow University and also has a PhD in particle physics.
After her studies she went to CERN, the European Organisation for Nuclear Research, in Geneva, Switzerland, to work on research projects there.
At an earlier hearing, the Court of Session in Edinburgh heard how Ms McGlone was diagnosed after a general health check in Geneva in January 2008.
She decided to arrange the appointment after she cut her finger by accident in the kitchen of her home, prompting her to realise she had health insurance.
Ms McGlone said Swiss doctors were surprised to discover she had cervical cancer as previous tests in December 2005 and March 2006 had not alerted Scottish medics to the symptoms.
By that time her tumour had reached a stage where a hysterectomy was the only option.
She now fears she will be unable to have children and claims that the cancer effectively ended her hopes of a high-earning career.
Ms McGlone claims the smear tests of December 2005 and March 2006 show "pre-invasive" cancer which would have needed less serious treatment.
She says the hysterectomy in May 2008 left her physically incapable of working and she was allowed six months leave of absence.
She also claims her qualifications and research would have enabled her to work in the banking industry and she had intended to seek a job with an investment bank or other large financial organisation - earning a substantial salary and big bonuses.
Ms McGlone says her compensation should include the cost of re-training to work with children's charities and for the private medical treatment she has undergone.
This has included fertility treatment at a private clinic in the USA because she has not given up all hope of having children.
The ruling by Lord Tyre clears the way for further hearings to decide the size of any award payable to Ms McGlone.
NHS Greater Glasgow and Clyde has admitted mistakes were made with smear tests carried out at Glasgow's Royal Infirmary and at the Sandyford Clinic.
It contested the action, however, claiming that the errors had no bearing on Ms McGlone's eventual treatment because her cancer was already at an advanced stage.
Related Internet Links
The BBC is not responsible for the content of external sites.