Scottish election: What do 'new Scots' voters want?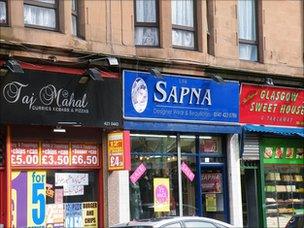 The area around Govanhill on Glasgow's southside is home to one of the country's largest communities of "new Scots" - people whose families moved here from India, Pakistan or Bangladesh.
There are sari shops, shops selling a wide range of exotic looking sweets, shops that offer money transfer to the sub-continent, food shops and plenty of restaurants and take-aways.
But talking to people there I heard plenty of opinions that you might expect to hear from any community.
A young woman told me "I'm not very fond of politicians".
"They make promises in their manifestos. And they don't keep them."
Several people talked about high fuel prices.
"Sometimes you can't afford to take the car out," one lady said.
One man talked passionately about the impact of cuts coming from Westminster, but cheerfully admitted that he couldn't think of any services that could go in a time of financial austerity.
A woman working in a dress shop insisted politicians should cut the amount of money they spend on themselves.
"They are living their lives like a royal family. They've got big cars, big houses, they go on holidays and everything", she told me.
So - just like anywhere else - worries about fuel duty, cuts, and politicians milking it.
One man, whose family came from Pakistan, told me he'd lived in Govanhill for 20 years. But he's moved away now.
"The area's hit the skids", he explained.
And who did he blame? The government, for letting in too many Eastern Europeans and asylum seekers.
And I was also surprised by another conversation, with a man who told me he has been living and working illegally in Glasgow for nearly five years.
He insisted he didn't want to claim benefits. But to work and pay taxes.
The man added: "The Asian community here they want only permission for working.
"If you don't give them permission you are losing, financially."
He went on to explain that some businesses exploit workers who they know are in the country without permission, paying them low wages.
And those same workers are also excluded from the system, he argued.
Which means they don't pay income tax, can't tax or insure their cars - and so on.
He said: "If you allow an illegal person to work - not giving him any benefits - you will end up benefiting."
"If you allow him a work permit, both sides benefit."
"The illegal. And the government."
An amnesty for illegal immigrants? Well, it is an idea that's been floated before.
But it's unusual to be able to talk to someone who says they themselves would benefit, if it was ever implemented.
People from Glasgow's Asian communities told BBC Scotland about their politics and priorities