St Andrew's Cathedral to reopen after £4.5m renovation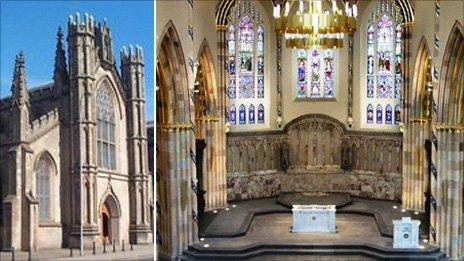 One of Scotland's most important Catholic buildings will reopen this weekend following a £4.5m refurbishment and renovation project.
St Andrew's Cathedral in Glasgow was closed in August 2009 to allow new flooring, seating, lighting, heating and sound systems to be installed.
Among the features are a new marble altar, baptismal font and a painting of St John Ogilvie by Peter Howson.
The public will have access to the cathedral from 0800 BST on Monday.
An opening ceremony, attended by civic and ecumenical representatives and First Minister Alex Salmond, will be held on Saturday.
The first Mass in the refurbished building will be celebrated by Archbishop Mario Conti on Sunday.
Celebrated artist Peter Howson will oversee the unveiling of his painting, which he has gifted to the church, on Monday.
Archbishop Conti said: "I am delighted that the cathedral will once more be a source of pride to the Catholic community and to the people of Glasgow.
"It is a fine building which needed careful restoration. Everyone who has had a sneak preview has been overwhelmed by the new sense of light and space which has been created.
"It is a much used and much loved building which I am delighted to see restored to the worship of God after its transformation."
The redecoration of the cathedral involved the use of more than 3,000 books of gold leaf.
Other new features include mosaics commissioned from Bethlehem craftsmen.
St Andrew's Cathedral was built as a "chapel" in 1816 by the architect James Gillespie Graham and is the mother church of more than 250 parishes in the west of Scotland.
Related Internet Links
The BBC is not responsible for the content of external sites.