Paramedics inspire career change for Lanarkshire father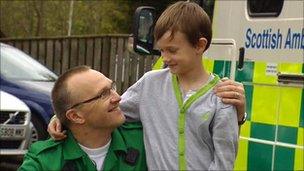 A salesman whose son's life was saved by ambulance crews was so inspired he has become a paramedic himself.
Donald Wilson, 44, was so impressed by the response of the paramedics when his son was injured in a sledging accident, he decided to take up the profession.
Jamie Wilson, eight, was sledging with his family on 2 January last year when the accident happened, leaving him with a serious head injury.
Mr Wilson is now working with the Scottish Ambulance Service.
Recalling his sledging accident at Chatelherault Country Park in South Lanarkshire, Jamie said: "I went down the hill while my dad was coming up and then I bumped into him and then I fell onto my side."
Jamie had fractured his skull and lay unconscious in the snow.
Mr Wilson, from Uddingston, had some basic first-aid training and did what he could to clear Jamie's airways while someone called 999.
"There was a kind of grunting noise coming from his breathing," he said.
"While we waited for the helicopter, a First Response paramedic came and then an ambulance paramedic, and they all dealt with Jamie really, really well."
Jamie was airlifted to the Southern General Hospital in Glasgow by a Sea King helicopter from HMS Gannet and spent 10 there. He has since made a full recovery.
The whole experience caused Mr Wilson to reflect on what he wanted to do in life.
He said: "I'd never really considered the ambulance service prior to that accident because I'd never really been exposed to it but that really catalysed me into doing something."
He gave up a long career in sales and applied for a position as a trainee with the Scottish Ambulance Service.
Exactly a year after Jamie's accident, he started his job as a foundation paramedic.
He added: "It's a very rewarding job and having my own son go through a traumatic accident, I feel I've got empathy towards people we're called out to who are in the same kind of situation."
Jamie's proud of his father's new job, but he does not plan to follow in his career.
He wants to be a rugby player, and drive an ice-cream van.
Related Internet Links
The BBC is not responsible for the content of external sites.