Glasgow hosts 2014 Commonwealth Games legacy summit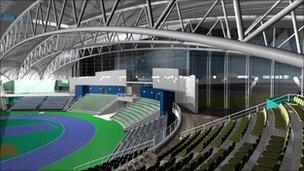 Glasgow has enlisted the help of two political figures in England in its ongoing bid to ensure lasting benefits from the 2014 Commonwealth Games.
Councillor leader Gordon Matheson has met with Sir Richard Leese and Sir Robin Wales at a games legacy summit.
Sir Richard was leader of Manchester City Council when it hosted the Commonwealth Games in 2002.
Sir Robin, mayor of the London borough of Newham, is involved in preparations for the 2012 Olympic Games.
Glasgow has stated that its long-term goal is to ensure that the games benefit the city economically, environmentally, culturally and socially.
It has already established a Commonwealth Games jobs fund, which aims to support the creation of 1,000 jobs by July 2012.
The council said companies within the city had secured contracts worth £178m and more than 1,300 apprenticeships had been created for school leavers since 2009.
The summit, which took place at the city chambers on Monday, discussed the benefits that the Commonwealth and Olympic Games can bring to host cities.
Mr Matheson said: "The Games legacy summit is a fantastic opportunity for us to find out more about what Manchester did so well in 2002, the legacy that was left and the impact that the preparations for the 2012 Olympic Games are having in London.
"Glasgow has already gained a legacy from the Commonwealth Games in 2014, and the legacy plans we have in place will ensure that we make the best of this unique chance for the city. I am sure we will all learn a great deal from each other."
During the summit, the three civic leaders toured a number of the sites being prepared for the Glasgow 2014 games and meet some key figures involved in preparing and delivering the event.
Sir Richard Leese said: "The Commonwealth Games in Manchester 2002 was a real catalyst for the renewal of the old former industrial area of East Manchester and a key economic driver for the Manchester city-region as a whole.
"Nine years later we are still reaping the benefits."
Sir Robin Wales added: "I have always said the real benefits of the games come in making people's lives better.
"They will provide a huge boost to the regeneration of Newham and we will be working hard to maximise the opportunities for local people."