Sheridan lawyer wants probe into Andy Coulson evidence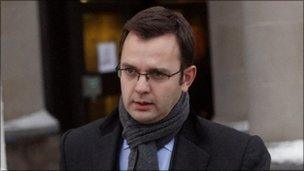 Tommy Sheridan's lawyer has called on police to examine evidence given by Andy Coulson during the former MSPs perjury trial in Glasgow.
Aamer Anwar's comments came after the News of the World admitted liability over a number of phone hacking cases.
He said police should examine whether former editor Mr Coulson lied during questions about alleged phone hacking.
Sheridan was jailed for three years for lying during his successful defamation trial against the newspaper in 2006.
The former Scottish Socialist Party (SSP) leader won £200,000 when he took the newspaper to court after it printed allegations that he had committed adultery and visited a swingers' club.
After the court action, the former MSP and his wife Gail were charged with perjury.
She was acquitted during the subsequent trial which led to her husband's conviction in December.
Mr Coulson was called to give evidence as he was editor of the News of the World between 2003 and 2007.
At the time of his two-day appearance at the trial, he was employed as Prime Minister David Cameron's director of communications.
He resigned in January, saying coverage of the News of the World phone hacking scandal had "made it difficult to give the 110% needed in this role".
During heated exchanges with Mr Sheridan, who represented himself during the trial, Mr Coulson denied being involved in, or aware of any illegal activities, including phone hacking.
Other figures from the News of the World also gave evidence at the trial.
Sheridan's questions stemmed from the fact that his name and address had been found in a notebook belonging to Glen Mulcaire.
The private investigator was jailed along with the newspaper's former Royal editor Clive Goodman for illegally intercepting mobile phone messages.
Mr Anwar now wants police to examine evidence given by Mr Coulson and News of the World employees during his client's trial.
He said: "It is essential that the Scottish police and the Metropolitan Police examine the evidence of Andy Coulson as well as others to consider whether perjury was committed by them and whether they were aware of Mr Sheridan's phone being hacked along with others.
"If no-one is above the law, then those who gave evidence on behalf of News International must be investigated over allegations of perjury."
Related Internet Links
The BBC is not responsible for the content of external sites.