Dumbarton captain Gordon Lennon 'electrocuted in crash'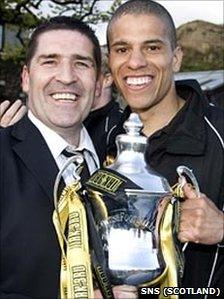 Dumbarton FC captain Gordon Lennon was electrocuted while enjoying an off-roading trip with friends, a fatal accident inquiry has heard.
The 26-year-old, originally from Larne, County Antrim, died when the 4x4 he was in hit an electricity pole at Brahan, near Maryburgh, in June 2009.
Dingwall Sheriff Court heard a witness describe how the player's legs were on fire after the accident.
Mr Lennon died shortly after leading his team to promotion to Division Two.
He lived in Paisley and had a baby son with his partner, Kelly Dempsey.
The inquiry, before Sheriff Alasdair MacFadyen, heard from James Hampton, from Inverness, who is married to Kelly's sister.
He said the footballer and his partner had been visiting them at the time of the accident.
Mr Hampton told the court that another man, Fraser Hughes, had invited him to a day of off-roading and he had been joined on the Brahan Estate on 7 June 2009 by Mr Lennon.
He said they had not paid for the experience or signed any disclaimer forms.
Mr Hampton told the court how he was in a Landrover with off-road enthusiast John Hughes.
They were travelling behind a 4x4 Mercedes, driven by Fraser Hughes, in which Mr Lennon was a passenger.
The day started at about 0900 BST and had gone without incident prior to the tragedy, which occurred late in the afternoon, just as the party was about to head home.
Mr Hampton described how his vehicle was about 70 yards behind Mr Lennon's which was going downhill on a track towards a boggy hole, which was about 15ft deep and 30ft wide.
During the descent, the Mercedes crashed into a wooden pylon, which snapped in half, causing a high-voltage wire to drop on the vehicle.
Mr Hampton said: "We realised he had hit a pylon and cables were swinging back and forward. There were weird noises from the electric."
He said Mr Hughes's brother Fraser them came towards them asking: "Where is Gordon, where is Gordon?"
"We ran to the vehicle and were shouting for Gordon. I saw Gordon on the passenger side of the vehicle lying at the back wheel," he said.
"His thigh was at the wheel and his head was at the back of the vehicle lying in a ditch as if he had been thrown back.
"His legs were on fire. I jumped over the cable and grabbed hold of his jacket. I didn't know if the electric was live in him.
"I pulled him away from the vehicle in case it exploded and put the fire out on his legs with his jacket."
Mr Hampton, a trained first aider, said he carried out CPR chest massage and mouth-to-mouth in a bid to revive Lennon.
More people arrived and they carried the footballer into the back of another Landrover and took him to a nearby car park where the emergency services had arrived.
Mr Hampton said he continued to carry out CPR in the ambulance along with paramedics on the way to Raigmore Hospital Inverness, where Mr Lennon was pronounced dead.
The inquiry, which is expected to hear from 21 witnesses over several days, previously heard written evidence from pathologist Dr Roslyn Rankin.
She said the footballer had suffered multiple burns typical of electrocution, from which he died, as a result of a collision with a pole carrying an electricity supply.
The post mortem examination showed no alcohol in Mr Lennon's system.
Related Internet Links
The BBC is not responsible for the content of external sites.