Scottish appeal judges uphold asbestos compensation law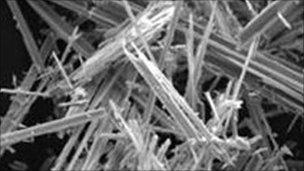 Insurers have lost a legal bid to overturn a law in Scotland which gives victims of an asbestos-related illness the right to claim damages.
The Scottish parliament passed the Damages (Asbestos-related Conditions)(Scotland) Act in 2009.
It allows sufferers of pleural plaques, a benign scarring of the lungs, to make compensation claims.
Insurers argued the law was "flawed" but the Court of Session upheld the Scottish Parliament's decision.
Some of the biggest names in the insurance industry, such as AXA, opposed the Damages Act, passed at Holyrood in March 2009.
The law had already overturned a landmark House of Lords ruling that people with pleural plaques, a symptomless thickening of lung membranes, cannot claim compensation.
Pleural plaques can be caused by past exposure to asbestos but have no ill-effects and are not considered a disease in their own right.
Supporters of the law, such as Clydeside Action On Asbestos, argued that the benign scarring on lungs proves past exposure to asbestos and increases the risk of fatal disease.
Insurers warned that MSPs ignored medical opinion and had opened the "floodgates" for claims.
The industry argued that the law breaks European Convention on Human Rights provisions on property rights and constitutes unreasonable legal interference.
A summary of the court opinion rejected the overall challenge, which was brought forward on two bases.
The Lord President, Lord Eassie and Lord Hardie rejected the first challenge that the legislation was unlawful.
They agreed that insurers' rights are interfered with but that the interference "was justified" overall.
During scrutiny of the legislation, the Scottish government estimated that costs were likely to peak between £7m and £19m in the next decade.
But the insurance industry claimed the costs over the next 20 years would average between £76m and £607m.
The Court of Session's judgement was welcomed by Grahame Smith, general secretary of the Scottish Trades Union Congress (STUC).
"We would sincerely hope that the insurance industry will now accept that the introduction of this legislation was entirely within the competence of the Scottish Parliament and now begin to pay compensation to those suffering from pleural plaques," he said.
"It is deeply disappointing that insurers, having accepted the employers business and their insurance premiums continue to challenge any efforts to compensate workers suffering asbestos-related conditions.
"Sufferers of pleural plaques suffer years of anxiety and distress and we believe should always have been compensated for this suffering."
Related Internet Links
The BBC is not responsible for the content of external sites.