Kimberley Hainey charged with toddler son's murder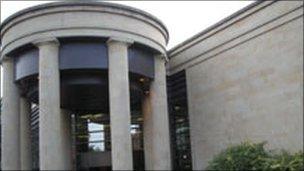 A woman accused of murdering her 23-month-old son, concealing his body and pretending that he was still alive, has appeared in court for a second hearing.
Kimberley Hainey, 36, from Johnstone, Renfrewshire, denies assaulting, wilfully ill-treating and neglecting her son Declan between 2008 and 2010.
The High Court in Glasgow heard that information from expert witnesses was required before a trial commenced.
Judge Lord Bonomy adjourned the hearing to allow investigations to proceed.
Ms Hainey wept as the judge excused her from attending the next calling of the case later this week, but ordered that she must return for any further court date.
The accused also faces a charge of attempting to defeat the ends of justice.
She is accused of failing to inform the police or other authorities of Declan's death, concealing his body in the house at Bruce Road and preventing people from entering the property.
It is also alleged that - on numerous occasions - Ms Hainey pretended that Declan was being looked after by a family member, a friend, or was at nursery.
It is claimed that Ms Hainey pretended to Elizabeth and John Rodden that she was going to take Declan on holiday with her and induced them to pay for his passport, then told them she could not take him on a break because he was too young.
She is said to have accepted toys, clothes and gifts for the boy in a bid to make people believe he was still alive and failed to tell Her Majesty's Revenue and Customs that Declan had died, enabling her to continue to receive child benefit.
The Crown alleges that Ms Hainey pretended that Declan was alive in an attempt to defeat the ends of justice between 1 July 2009 and 31 March 2010.
Ms Hainey is also accused of supplying heroin to Greig Irving at a house in Renfrew, on various occasions between 25 December 2009 and 31 March last year.
She faces a final charge of having heroin in her possession between 1 September 2008 and 31 March 2010.
Related Internet Links
The BBC is not responsible for the content of external sites.