Building firms fined £200,000 over James Kelly death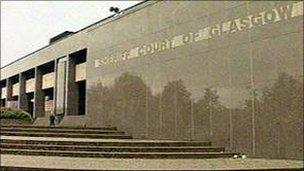 Two firms convicted of health and safety breaches after a construction worker fell to his death at a top private school have each been fined £200,000.
James Kelly, 50, was erecting stonework at Glasgow Academy in April 2007 when he fell about 30ft (9m) from scaffolding.
Glasgow Sheriff Court heard how he suffered fatal head and chest injuries.
His employer Stirling Stone Limited and Robertson Construction Central Limited were found to have failed to meet their health and safety obligations.
Robertson Construction, of Elgin, was ordered to pay the fine at a rate of £100,000 per month over the next two months.
Stirling Stone were ordered to pay £10,000 per month.
Sentencing the firms, Sheriff Sam Cathcart told them that their health and safety procedures had fallen far below the appropriate standards.
"A further aggravating factor against each accused is that this was not a breach of the statute by a single failure," he said.
In the case against each accused, the Sheriff Cathcart said, there were multiple failures.
He added: "The fines cannot and should not be seen as an attempt to value Mr Kelly's life in money."
During the trial, the court heard that Mr Kelly had been employed as a labourer by Stirling Stone Limited, which had been sub-contracted to carry out work by main contractor Robertson Construction.
He was working on the third level of a loading tower of the scaffolding when he fell in Glasgow's Colebrook Street on 26 April 2007.
The 50-year-old was taken to the nearby Western Infirmary but pronounced dead on arrival.
The court heard from the labourer's colleague, Stuart McCafferty, who saw him just before he fell.
Mr McCafferty, a stonemason, claimed that it looked as though Mr Kelly had stopped for a cigarette.
He said: "He looked like he stopped for a smoke. He leaned against the rail and just kept falling."
Mr McCafferty added that there was often a problem on the site with unqualified workers altering scaffolding instead of trained scaffolders.
The witness told the court: "If we couldn't find a scaffolder, we would do it.
"It took too long to get a scaffolder. We shouldn't have done it but we did."
The court heard that the railing Mr Kelly leaned on was not properly secured with a cuplock to hold it in place.
Supervisors should have been aware that staff were changing the scaffolding themselves and stopped it.
The companies should also have taken reasonable precautions to prevent Mr Kelly's death such as arranging set times each day for scaffolders to visit the site to make any necessary changes.
The court was told that since Mr Kelly's death, Robertson Construction and Stirling Stone had made changes to their procedures on site.
Related Internet Links
The BBC is not responsible for the content of external sites.