In quotes: Reaction to Celtic bomb threats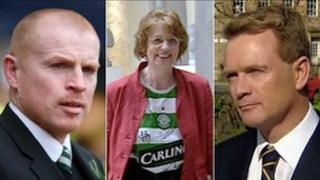 Celtic manager Neil Lennon and two prominent fans of the club, Paul McBride QC and Trish Godman, have been targeted by "viable" parcel bombs designed to "kill or maim".
The devices were found at various locations in the west of Scotland and, according to police, were designed to cause "real harm".
The threats have been roundly condemned in Scotland.
Here is what some political and footballing figures have said.
PETER LAWWELL, CELTIC FC CHIEF EXECUTIVE
Neil Lennon is a football manager who simply wants to carry out this role to the best of his professional ability.
However, in this horrific ongoing campaign, he and other Celtic personnel continue to be the subject of repeated threats and intimidation.
It is an intolerable state of affairs, which must end.
The most recent targeting of Neil Lennon, Paul McBride and Trish Godman - three people who are linked only by an affinity with Celtic - deserves condemnation from all right-minded people.
ALEX SALMOND, FIRST MINISTER
There is a major police investigation under way to ensure that the individual or individuals concerned are identified and apprehended, and then brought to book with the full force of the law.
These disgraceful events should remind all of us who love the game of football of what unites us as a community.
It is time to remember what we value in society, and unite to condemn those who use football as a pretext for their pathetic and dangerous prejudices.
IAIN GRAY, SCOTTISH LABOUR LEADER
I am absolutely appalled at this development and hope that progress can be made on finding those responsible.
Individuals who engage in this type of terrorism do not have the support of the public and are rightly seen as pariahs.
Now is the time for calm heads.
I hope that the whole community shows that this type of behaviour will not be tolerated in our country.
ALLY MCCOIST, RANGERS ASSISTANT MANAGER
Like any other normal human being, I'm absolutely appalled that in this day and age... people should see in some bizarre and crazy and outrageous way that they've got to send these devices.
Unfortunately I think the sad thing is, no matter what I say or do, or what other people say or do, I don't think it's going to have a major effect on these people.
Because, to be quite frank, they're sick.
We cannot let these idiots win. And we won't let them win.
STEWART REGAN, SCOTTISH FOOTBALL ASSOCIATION CHIEF EXECUTIVE
The Scottish FA is horrified and saddened by the news that the Celtic manager, Neil Lennon, has been subjected to another - reportedly 'viable' - threat along with two other prominent supporters of the club.
It is hoped that swift action by Strathclyde Police will succeed in capturing the perpetrators of these cowardly acts and bring the full weight of justice down on them.
Scottish football should be a safe and entertaining environment for players, coaches and supporters.
It must not be used as a platform for religious intolerance or hatred.
MICHEL PLATINI, UEFA PRESIDENT
We will fight against all violence, sectarianism, everything we will fight.
Football is very nice. It's a beautiful game and you have many beautiful things. But you have some bad things.
As Uefa president you have take responsibility to look what are the bad things and change the system.
When people send a bomb to other people I think it is very complicated for Uefa to manage that ... it's very bad what's happened to the manager of Celtic.
PROFESSOR TOM DEVINE, UNIVERSITY OF EDINBURGH HISTORIAN
What has happened over the past few days is entirely unprecedented. We're into a new situation.
I honestly think this is a powerful wake-up call for the judicial, political and police authorities in Scotland.
In my view, the law has not been administered as strongly or as firmly as it could.
MICHAEL KELLY, FORMER CELTIC DIRECTOR
This now is terrorism, purely and simply.
It's got nothing to do with football and the background of the summit and the Old firm game.
It's up to the police to refocus their targets on these people and to catch them.