Pylon at Gordon Lennon crash site sturdy, FAI hears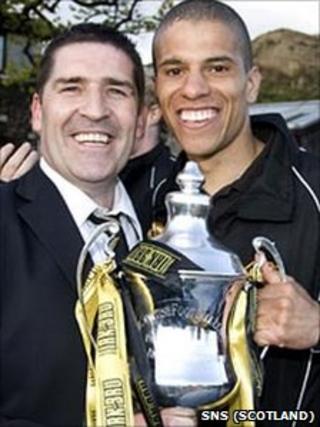 An electricity pylon which snapped, leading to a footballer being electrocuted after a crash, should have withstood the collision, an inquiry has heard.
Dumbarton FC captain Gordon Lennon, 26, died while on an off-roading trip in Ross-shire with friends.
A power company employee said the pole was in "very good condition" when he examined it after the crash.
He was giving evidence at an inquiry at Dingwall Sheriff Court.
The Fatal Accident Inquiry (FAI) had heard earlier that Lennon was a passenger in a 4x4 that crashed into an electricity pole on a mud track on Brahan Estate on 7 June, 2009.
The pole snapped on impact and live 32,000-volt electric cables fell on to the vehicle, electrocuting Mr Lennon as he tried to escape. He later died.
The footballer, originally from Larne, County Antrim, had lived in Paisley.
Innes MacLeod, team manager for Scottish and Southern Energy, told the FAI the pole was in "very good condition" when he examined it following the accident.
Mr MacLeod attended to help make the area safe after the crash and replaced the 30ft (9.1m) pole the following morning.
He said the wooden pylon involved in the accident had been the thickest of three types to be erected by the company.
'Very sturdy'
Mr MacLeod, when asked by the Lennon family's solicitor Katherine Brydon whether he expected electrical poles to withstand a collision with a vehicle, replied: "Yes."
He added: "They are very sturdy, they will take quite a fair impact. This pole was in very good condition. There were no signs of decay or rot whatsoever."
He told the court that the pole had been erected in 1997 and had been inspected the year before the accident.
Mr MacLeod said when the pole snapped, the electrical conductor and wires had caught on the front bumper of the vehicle.
The inquiry was told poles were usually sited at least 3ft (0.9m) away from a public road, but in this case, where it was a private road, the pole was less that 2ft (0.6m) from the track on the Brahan Estate in Ross-shire.
The inquiry is being attended by Lennon's fiancee, Kelly Dempsey, who gave birth to their son Kai just five months before the tragedy.
His parents Alex and Sivana Lennon are also watching proceedings, along with two of his brothers and his sister.
The inquiry before Sheriff Alasdair MacFadyen continues.