Drink drive Pc Richard Gill faces losing job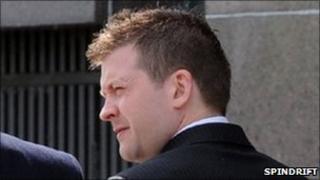 A police officer faces losing his job after he was caught driving dangerously while over the limit.
Pc Richard Gill, 31, admitted driving dangerously and losing control of his car while over the drink drive limit in Kirkintilloch last July.
Glasgow Sheriff Court heard how Gill was seen reversing at speed away from traffic lights before spinning the car through 180 degrees.
The Strathclyde Police officer was also given 195 hours community service.
The court heard how CCTV images had shown Gill at traffic lights in his home town at about 0256 BST on 11 July 2010.
While executing the reverse manoeuvre, he lost control of his Vauxhall Astra and the car came to rest with its front pointing at the kerb.
Two foot patrol officers witnessed the incident and breathalysed Gill after smelling alcohol on his breath. He was found to be just over the drink drive limit.
Defence lawyer David Hunter told the court that Gill was now likely to lose his job as a result of the convictions.
He said: "His current job is very likely to go and the loss of his job and income will mean that he will also lose his house."