Old Firm clash: Bid to stop 'perfect storm' of violence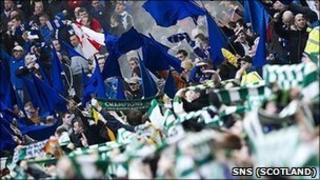 Extra officers will be on the streets for Sunday's Old Firm game to guard against a "perfect storm" of alcohol, sun and a bank holiday.
The crunch Rangers-Celtic game comes against the background of the previous "shame game", a parcel bomb being sent to Celtic boss Neil Lennon and charges of sectarian singing against Rangers.
Strathclyde Police has said arrests and violence increase around the fixture.
Chief Constable Stephen House said he was deploying 1,000 extra officers.
He told the Scottish Sun newspaper: "It's a bank holiday, it is the last meeting of the season - which is crucial for a result - and the weather forecast is hot."
He said people would be drunk and violence, assaults and domestic violence would increase.
"We do not see the clubs as the enemy," he added. "We do not blame Celtic or Rangers for the violence.
"The people who are responsible are those who use knives, fists or whatever other weapons on their fellow human beings."
He warned that it was the "perfect storm."
His comments about the weekend match come after increasing concern over disorder at Old Firm matches following an ill-tempered clash between the two teams last month.
An Old Firm summit, chaired by First Minister Alex Salmond, was held in the wake of the game and an eight-point action plan was agreed.
Rangers have also been charged by Uefa over their fans' chanting at Europa League ties with PSV Eindhoven.
Meanwhile, detectives are continuing their hunt for whoever sent parcel bombs to Celtic manager Neil Lennon, Paul McBride QC and former MSP Trish Godman.