Parcel bomb lawyer Paul McBride in sectarianism warning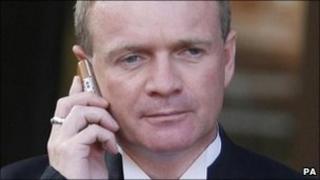 A lawyer who was sent a parcel bomb last week has said there must be a co-ordinated approach towards tackling sectarianism in the west of Scotland.
Paul McBride QC said there were hundreds of websites spreading hate and encouraging others to commit violence.
Strathclyde Police are investigating the sending of four parcel bombs.
Two were addressed to Celtic Football Club manager Neil Lennon, one to former Labour MSP Trish Godman and another to Mr McBride who has acted for Mr Lennon.
Sectarian poison
Mr McBride was sent a nail bomb which was intercepted last Friday.
"I wasn't depressed and I wasn't hurt and I wasn't frightened, I was simply angry about it. I was even more angry when I heard it had happened to Trish," he told BBC Radio 4's Today programme.
"I will not be silenced by anybody out there with a bomb."
He said Scotland would still have a problem to address even when those who posted the bomb were apprehended.
"This has been going on for some time, especially on the internet, and I know the Crown have been looking at the way of addressing vile abuse on the internet.
"It's now spilling out on to the streets, in to actual violence and the internet appears to be a driver for individuals to come together and spew their hatred and bile out, and I'm afraid it's resulting in people dying.
"People are being stabbed in a sectarian way in Glasgow, and, as a person who works in the High Court as a QC every day of the week, I see the result of sectarian crime."
He said there were hundreds of internet websites whereby supporters of both teams expressed hatred.
"In the past we weren't aware that people held these views, which were expressed in various bars or lodges," he said.
Mr McBride added that there had been enough well-intentioned talk - it was now time for a co-ordinated approach involving police, churches, politicians and football clubs.
He said they should all sign up to an agreed code of conduct in football stadiums about how fans should behave and chant.
Mr McBride said that could mean supporters who misbehaved were banned for life.
'Difficult week'
Mr Lennon has said he believes that becoming the target for parcel bombs would not have happened had he been the manager of any other football club.
"It leaves a bad taste in the mouth, but I'm totally committed to the club, the fans and the players," he said.
"It's my most difficult week in the job. We all know why it's happening."
Mr Lennon, a Catholic, stopped playing international football for Northern Ireland in 2002 after a death threat, said to be from loyalist paramilitaries.
Bullets were sent to him earlier in this season, while a suspicious package addressed to him was also intercepted.
'Lifestyle change'
Some 2,000 fans staged a candlelight vigil outside Celtic Park on Thursday night in support of Mr Lennon.
The Celtic manager stressed that events would not force him out of the Glasgow club.
He said: "My life has changed a bit, but I have tried not to change it too much.
"I am not under armed guard or anything like that, but we have had to curtail a few things and change things about my lifestyle, which is unfortunate. But I am hoping things can be brought to a head."
Celtic face city rivals Rangers on Sunday, in what is being billed as a title showdown.
Strathclyde Chief Constable Stephen House said an extra 1,000 officers would be deployed for the match.