Celtic parcel bomb police seek couple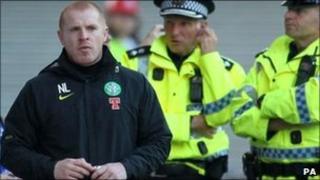 Police investigating parcel bombs sent to Celtic manager Neil Lennon and two other people are appealing for a couple in their early 20s to come forward.
They were seen in the Ayrshire town of Kilwinning on the day the most recent explosive device was discovered there.
Strathclyde Police have also arrested two men suspected of posting sectarian and racist comments on the internet.
The developments come as Rangers and Celtic prepare for the final Old Firm derby of the season on Sunday.
The match, which will be closely monitored by police, will go a long way towards deciding the Scottish Premier League title.
Bus sighting
A parcel bomb addressed to Lennon's lawyer, Paul McBride QC, was discovered at a postbox in Kilwinning.
Since then police have been hoping someone might have witnessed it being dropped inside.
Officers now say they want to trace a couple who were seen getting on a number 20 bus in Montgomerie Terrace at about 1410 BST on 15 April.
The man was wearing a light blue and white top and the woman had a dark padded jacket. Detectives would like to hear from anyone who saw them.
Another Strathclyde Police team has begun arresting people suspected of inciting racial or sectarian hatred on the internet.
Two men were charged with sectarian breach of the peace on Saturday and dozens of others are being investigated.
Sectarian threats
The arrests were made in Paisley and Dalmarnock in the east end of Glasgow. They are expected to appear at Glasgow Sheriff Court on Tuesday.
The raids, which police said were ongoing, target postings of religious and racial hate comments about Lennon and Rangers striker El Hadji-Diouf.
It is understood the addresses were identified with the help of the Internet Service Providers Association, as part of an operation which has been going on for several weeks.
Police said some online postings were already being taken down but officers had captured the electronic evidence for individuals being targeted.
The suspects range in age from their early teens to their 50s.
An extra 1,000 officers will be out in Glasgow on Sunday for this season's seventh Old Firm match, being played at Rangers' Ibrox stadium.
Neil Lennon has had sectarian threats made against him throughout his career as a player and manager at Celtic and was the target of a parcel bomb campaign, which also saw devices addressed to Mr McBride and Celtic-supporting former MSP Trish Godman.