Waverley paddle steamer in eventful start to season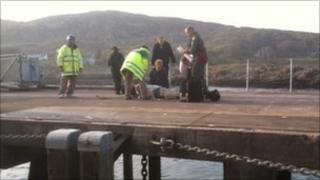 The paddle steamer Waverley has faced a series of challenges on the opening day of the 2011 season.
The vessel was delayed by a technical problem for more than an hour on her departure from Pacific Quay in Glasgow to Oban on Friday.
Later a male passenger took ill off the Mull of Kintyre and had to be airlifted to hospital.
Waverley had about 400 passengers on board for its trip from the Clyde to the Hebrides.
The ship was well on its way when the man was taken ill.
A doctor on board attended to the casualty before a winchman from a Royal Navy helicopter was lowered onto the ship.
The Waverley was then diverted to the island of Colonsay while the helicopter - which was on exercise in the area - refuelled at Oban airport.
The casualty was taken ashore by stretcher at Scalasaig before the airlift to hospital.
Waverley sailed for Oban and - despite the two incidents - arrived just under an hour later than scheduled.
The ship, which is the only remaining sea-going paddle steamer in the world, is undertaking a 12-day cruise of the west coast of Scotland and the Western Isles.
The trust which owns and operates the Waverley recently appealed for more public funding as it revealed it was struggling to make ends meet in the current financial climate.
Waverley Excursions said in needed to raise £500,000 in order to keep the steamer running.