Wife killer David Lilburn loses conviction appeal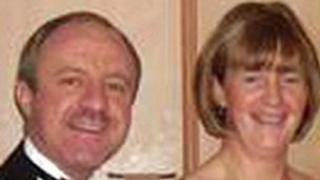 A man who stabbed his wife 86 times at their home in Renfrewshire has failed to overturn his conviction for murder.
During his trial, David Lilburn, 48, admitted killing 43-year-old Ann in Paisley in July 2007 but claimed a "black shadow" told him to do it.
A jury dismissed his claim of mental illness and convicted him of murder. He was jailed for a minimum of 19 years.
Five judges at the Court of Criminal Appeal in Edinburgh backed the jury's verdict.
During his trial, Lilburn's defence claimed mental ill health made him believe a "black shadow" was controlling him.
'Complete destruction'
The court heard how former accountant Lilburn went through a mid-life crisis spending cash on new teeth, visiting hair salons and going to the gym up to six times a week.
He also embarked on an affair after answering a lonely-hearts column in a newspaper.
Lilburn told the court his womanising led to the "complete destruction" of his wife and that their two sons and daughter had lost respect for him.
Ann consulted lawyers about a divorce and her husband was sent a letter demanding he leave the family home in Arniston Way, Paisley, for the sake of his wife and daughter.
In the early hours of 29 July 2007, Lilburn had gone to sleep in the marital bed despite it being agreed that he use a spare room.
The court heard that Ann came home, a row erupted and Lilburn repeatedly banged her head against a door frame and floor.
He grabbed four knives from the kitchen before returning to stab his wife 86 times.
On a 999 call, a hysterical Ann was heard to scream "I'm dead" as her husband repeatedly plunged the knives into her body.
After the attack, he stepped over his wife's body and went for a shower.
Telepathy claim
When police arrived, Lilburn said he had no memory of any attack and that he believed his wife was still alive.
However, during the trial, he admitted killing her and said a mysterious "black shadow" had telepathically told him to commit the crime.
He claimed his mental health had been suffering in the lead-up to the attack and that he had felt a "sense of foreboding".
But the court heard from witnesses who had seen Lilburn prior to the stabbing, including doctors and family, and no-one had reported concerns about his mental health.
Following his conviction, trial judge Ian Peebles QC described Lilburn as "wholly evil" and jailed him for a minimum of 19 years.
During his appeal, Lilburn's counsel, Chris Shead, argued that the Crown had to prove beyond reasonable doubt that an accused was fully responsible for his or her actions.
Lilburn is expected to return to court at a later date to contest the length of his minimum sentence.