Sparrowhawk misses prey and smashes window on Mull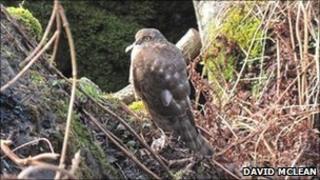 A sparrowhawk has had a lucky escape after missing its target on a bird table and crashing through a window.
The bird of prey was found "lying dazed and confused" inside a holiday home on the Isle of Mull on Sunday afternoon.
Owner, David McLean, followed advice given to him by RSPB Scotland and cared for the bird.
He released the sparrowhawk the following day. It was last seen disappearing into woods near Mr McLean's property on the Ross of Mull.
Mr McLean said he had been relaxing in his sun porch when he heard a loud bang and glass breaking.
"At first I thought I was under attack and cowered on the floor," he said.
"Then I spotted it, a sparrowhawk, lying dazed and confused not far from my head. It had presumably missed its target on the bird table and went right through my window."
Flapping about
After contacting RSPB Scotland's Mull office for advice, Mr McLean placed the injured bird on a towel in an old dog cage.
He took the sparrowhawk inside, covered the cage with a blanket and left the bird to recover.
Mr McLean added: "The next morning my new house guest was flapping about, clearly on the mend.
"I carried the cage outside, told it sternly that it was welcome to call again but could it knock next time, and I opened the cage door.
"It immediately flew out and straight for the now deserted bird table. After shooing it away, it landed on a nearby rock and spent a few hours re-orientating itself, before disappearing into the woods above."
Sparrowhawks are one of the smallest birds of prey and can reach speeds of up to 50km/h (31mph).
About one third of annual adult sparrowhawks deaths are thought to occur from collisions.