Car dealer Arnold Clark reports big profits fall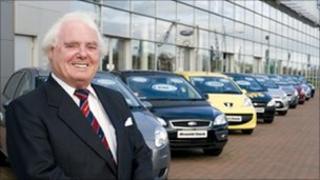 Pre-tax profits at Arnold Clark Automobiles plummeted by nearly a third last year, the car dealer has reported.
Turnover in 2010 rose by 6.1% to £2.27bn, but pre-tax profits fell by £23.4m to £50.5m.
The company blamed the fall on the ending of the car scrappage scheme, poor winter weather and difficult economic conditions.
Chairman and chief executive Sir Arnold Clark described the results as "better than expected".
Like-for-like sales grew by 2.6% last year, with new car units up by 3.0% to 77,626. Used car sales fell by 2.1% to 116,338.
Sir Arnold Clark said the growth in turnover and like-for-like sales were "particularly pleasing", given that the firm lost a large portion of two trading months to freezing weather conditions in January and December last year.
'Not unexpected'
He continued: "The fall in pre-tax profits to £50.5m was not unexpected as 2009 was an exceptionally strong trading year due to a number of factors which mitigated the effects of the downturn on the motor industry.
"2010 saw VAT return to 17.5% and the scrappage scheme, which had accounted for almost 15% of the new car market, came to an end in March.
"As anticipated, used car values returned to a more typical pattern during 2010 and, although residual values remained relatively strong, vehicle margins declined from the highs of 2009."
Sir Arnold said it was difficult to predict with any certainty what this year would bring, given that planned government spending cuts had yet to come into effect.
He added that January's rise in the VAT rate to 20% would "inevitably have an impact on large value purchases such as motor cars".