Zoe Nelson murder: Robert Bayne jailed for 20 years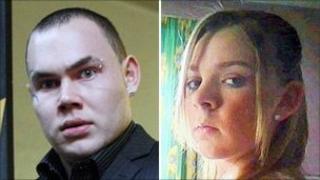 The man convicted of murdering 17-year-old Zoe Nelson and burning her body in woods in North Lanarkshire has been jailed for a minimum of 20 years.
Robert Bayne, 21, attacked the teenager, put a plastic sheet over her face and set her on fire, near Cambusnethan, Wishaw, in May last year.
At the High Court in Edinburgh, Bayne was given a mandatory life sentence.
The bodybuilder was also given a six-year concurrent sentence over his attempts to cover up Zoe's murder.
Jailing him, judge Lady Dorrian told Bayne: "This was an appalling crime, the circumstances of which are properly to be described as shocking."
During his trial, the court heard Motherwell College student Zoe, who was said to have been in a relationship with Bayne, was seen leaving her Newmains home at 1700 BST on 22 May 2010.
She was later seen on CCTV footage in a local store at about 1730 BST.
Residents reported seeing a fire in woods, known as Monkey Hill, later that evening.
A member of the public found her badly burned body there the following day. He told the trial he initially believed it to be a charred tailor's dummy, but soon discovered it was a corpse.
Jurors also heard that Zoe had told a close friend she used to go out with Bayne, and said he was "controlling" and would not allow her to see some of her friends.
The prosecution also presented evidence which showed that traces of DNA found on Zoe's remains matched samples taken from Bayne.
Bayne was found guilty of murder and of a second charge of attempting to defeat the ends of justice by setting fire to Zoe's body, washing and disposing of items of clothing worn during the murder, disposing of her mobile phone and falsely stating to police that another person had admitted to the crime.
As the Nelson family left court, Zoe's aunt, Shirley Nelson, 35, said they were disappointed by Bayne's 20-year minimum sentence.
"A life should mean a life. We should go back to the old days and bring back hanging," she said.
"All we can say now that all this is over is, as a family, we would like to thank everyone for the help and support that has been given to us all.
"Now, as a family, we have to come to terms with the fact that we will never see Zoe again as her life was cut short at the evil hands of Robert Bayne."