Glasgow loan shark Colin Morrison jailed for 15 months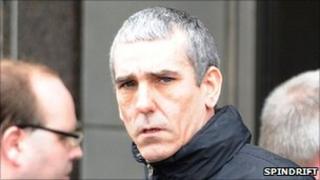 A Glasgow loan shark who charged people interest rates of more than 719,000% has been jailed for 15 months.
Colin Morrison, 46, admitted illegally lending money at his home address and other areas of the city between January 2004 and January 2010.
Glasgow Sheriff Court heard how his money demands forced one vulnerable couple to live on £15 a week.
Sheriff Martin Jones told Morrison that he would have been jailed for 20 months had he not pleaded guilty.
At an earlier hearing, the court heard how Morrison provided several illegal cash loans to Joseph Rankin and his partner Angela Clements - who suffers from the muscle wasting disease Myotonic Dystrophy - over a six-year period.
Interest rate
The couple struggled to pay the money back and were often left with just £15 a week to live on.
Mr Rankin, 40, and Ms Clements, 46, also borrowed from other loan sharks to pay Morrison back and eventually had to move away from Glasgow to escape.
The Scottish Illegal Money Lending Unit estimated that the compounded annual interest rate paid by the couple, if they had taken a year to repay the loan, was 719,214%.
The court heard that Morrison also started providing loans to 42-year-old Elizabeth Cassells around Christmas time 2007 and she continued to borrow from him over the next three years.
Georgina Close, a widow aged 50, also borrowed sums from Morrison but always repaid them the following week at 30% interest per week.
Prosecutors said that the matter was eventually reported to the police and a warrant was granted to search Morrison's home, where officers found £7,230 stashed in his wardrobe.
The subsequent investigation established that he had not been employed nor in receipt of benefits for a six-year period.
Jailing Morrison, Sheriff Jones told him: "This charge is serious, it was a sustained course of conduct over a number of years.
"Because of the gravity of the offence there would be no other suitable disposal."