Neil Lennon bomb police say new device 'aimed to harm'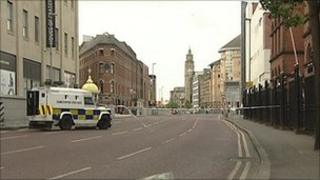 Police investigating parcel bombs sent to Celtic manager Neil Lennon and two fans believe a recently found fifth package could have caused "real harm".
The package, which was addressed to Glasgow-based republican group Cairde Na h'Éireann was intercepted by postal staff in Northern Ireland.
Strathclyde Police said it was similar to devices sent to Mr Lennon, Paul McBride QC and former MSP Trish Godman.
The fifth device is believed to have been posted in Scotland.
It was found at the National Return Letter Centre in Belfast, where mail which has not been delivered and has no return to sender address is retained by Royal Mail.
'Cause fear'
Part of Belfast city centre was closed following the discovery and the package was later taken to a Police Service of Northern Ireland station where it was examined by bomb disposal experts.
Strathclyde Police were later notified and are linking its discovery to four devices already found in Scotland.
The force said it appeared to be "similar to the ones already being investigated" and had been "designed to cause fear, alarm and furthermore real harm".
Ch Sup Ruaraidh Nicolson, of Strathclyde Police, said: "Naturally the public are going to be concerned about the latest discovery, however, we would like to emphasise that this device is not a new one - it entered the postal system at the end of March, around the same time as two of the other packages.
"Like the others, it was addressed to individuals / organisations that have experienced high-profile media attention lately and it was certainly a viable device.
"We continue to have daily dialogue with Royal Mail, and their continued vigilance has been invaluable."
Ch Sup Nicolson described the level of support and co-operation from the public as "extremely positive" but stressed that more help was needed.
He added: "Someone out there knows who is behind this irresponsible and appalling crime, and we will continue to work round the clock until the individual or individuals are brought to justice."
Couple sought
Officers have again appealed for help in tracing a young couple who were seen in Kilwinning, North Ayrshire, on 15 April.
Both were last seen in the town's Montgomerie Terrace at about 1410 BST boarding a Stagecoach number 20 bus which travels to Ardrossan.
Police have now established that the couple got off the bus at Kilwinning train station a short time later, and then boarded a train to Glasgow Central Station.
CCTV in Glasgow shows them arriving but it is not known where they travelled after this.
Officers also do not know if the couple live in Kilwinning or were passing through.
The man is described as white, in his early 20s and has dark coloured hair. He was wearing a distinctive light blue and white top with horizontal stripes and jeans.
The woman is described as white, in her early 20s and was wearing a dark coloured padded jacket.