Baby killer Faisal Younas loses appeal over conviction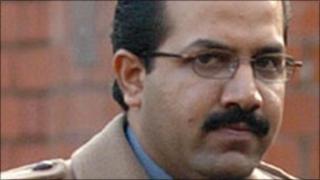 A man serving six years in prison for shaking his baby daughter to death has failed to overturn his conviction.
Faisal Younas, 38, was found guilty of the culpable homicide of nine-month-old Alishba at the family home in Glasgow's Pollokshields area in September 2005.
He claimed there had been a miscarriage of justice because trial judge Lord Hardie misdirected the jury - but appeal judges threw this claim out.
Younas now intends to appeal the length of his sentence.
The trial in Glasgow three years ago heard how eight-month-old baby Alishba died in the city's Yorkhill Hospital.
There was no doubt that a brain injury had caused the infant's death, but experts clashed over whether it had been accidental or inflicted on purpose.
Political asylum
Both Younas - a property developer in Pakistan before he fled, seeking political asylum - and wife, Bano, were accused of murder.
Later the charge was dropped completely against Bano and the Crown asked the jury to find Younas guilty of a reduced charge.
Younas claimed he had been looking after his daughter while his wife was at work and had found her choking in her car seat with milk dribbling from her mouth.
The jury decided that he was to blame for the fatal brain injury by shaking Alishba in the family home in Pollokshields.
The trial also heard that Mrs Younas had told a nurse that her husband had hit the baby and that when the couple had been questioned by a doctor at the hospital she had "glanced" at Younas while he stared straight ahead.
Younas' appeal relied on legal rules about hearsay evidence and whether statements by one accused can be used against another.