Limbs-in-loch killer William Beggs loses sentence bid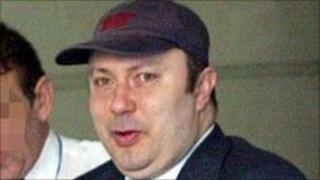 The man convicted of the "limbs-in-the-loch" murder of a teenager in East Ayrshire has failed in a bid to have his 20-year jail term reduced.
William Beggs claimed his human rights had been breached as court proceedings against him had taken so long.
Appeal judges ruled the use of human rights legislation was "incompetent" and the basis of the appeal groundless.
Beggs, 47, was found guilty of killing and dismembering Barry Wallace in Kilmarnock in 1999.
The use of human rights rules to demand a sentence discount was considered by the Crown to be a ruse to prevent the Court of Criminal Appeal in Edinburgh increasing the time he must spend in jail.
'Flawed' procedure
A straightforward appeal against the 20-year "punishment part", imposed by Lord Osborne at the end of his trial, would have allowed the judges to substitute a higher or lower prison term.
At an earlier hearing Scotland's solicitor general, Frank Mulholland QC claimed the procedure Beggs' legal team wanted to use was flawed and that most of the delays had been of Beggs' own making.
Announcing the result, judge Lord Reed ruled that Beggs' attempt to gain a possible earlier release was incompetent.
The judge went on to say that the claim would have been thrown out anyway because it was groundless.
"We are not persuaded that the applicant's Article Six right to determination of the charges against him within reasonable time has been infringed," he said.
"Much of the time was spent pursuing grounds of appeal which were unmeritorious," said Lord Reed.
Beggs was sentenced to life after his trial ended in October 2001.
The jury heard how supermarket worker Mr Wallace vanished on 5 December 1999, after a Christmas night-out with colleagues in his home town of Kilmarnock. He was last seen in the town centre.
A jury found Beggs took the teenager to his flat and subjected him to a serious sexual assault. He then murdered him and cut up his body.
The killer dumped Mr Wallace's limbs and torso in Loch Lomond and his head in the sea off the Ayrshire coast.
Shortly after the crime, Beggs fled to the Netherlands. After lengthy extradition proceedings, in January 2001 he was ordered to be returned to Scotland to face trial.
After his conviction, Beggs fought a long and complicated battle to overturn his conviction, which ended in failure in March last year.
Last December he reached the end of the line when the Supreme Court rejected his bid for a hearing there.
Beggs is also trying to get the European Court of Human Rights to award him cash compensation for the alleged delays.