Maguire and Burnett not charged over snooker bet probe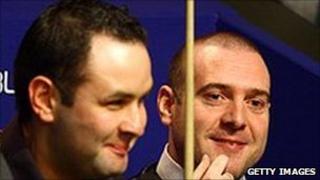 No charges are to be brought against two professional snooker players who were questioned by police over alleged irregular betting patterns.
Stephen Maguire, 30, and Jamie Burnett, 35, both from Glasgow, were questioned over a match they played at the Maplin UK Championship on 14 December 2008.
The Crown has decided there is not enough evidence to justify prosecution.
Snooker's governing body will now decide whether or not to take any disciplinary proceedings.
World Snooker, a subsidiary of the World Professional Billiards and Snooker Association (WPBSA) - the game's governing body - was alerted by bookmakers to unusual betting patterns before the match, with large sums being staked.
Police probe
The final result was 9-3 in Maguire's favour after Burnett missed a black in the 12th frame which would have cut the deficit to 8-4. Both players have strenuously denied any wrongdoing.
Strathclyde Police decided there was a sufficient link to launch an investigation into the match, before handing over their file to the procurator fiscal in April 2010.
A Crown Office spokesman said: "The procurator fiscal at Hamilton has received a report concerning five males aged 35, 34, 29, 31 and 31, in connection with alleged offences occurring in December 2008.
"Following a full and comprehensive investigation the case was reported for the consideration of Crown Counsel who, after careful consideration of all facts and circumstances, decided that there is insufficient evidence to justify a criminal prosecution.
"The case has now been referred to the relevant professional body for consideration of disciplinary proceedings."
The WPBSA inquiry will begin by looking at the Strathclyde Police files - which until now they have not seen - but it may then decide to extend the investigation to see whether any sporting rules were breached.
The head of the WPBSA's disciplinary committee, David Douglas, will lead the probe.
WPBSA chairman Jason Ferguson said: "We are treating this case very seriously.
Evidence reviewed
"We will now be given access to the evidence connected with the case, and our disciplinary committee will review that evidence thoroughly."
World Snooker chairman Barry Hearn has welcomed the news that both players will not face criminal proceedings.
"I'm somewhat surprised that this matter has been hanging around since December 2008 and obviously the cloud of suspicion has been cast over the two players concerned, which must have been very difficult for them," he said.
"It's a shame it wasn't resolved much more quickly, and presumably, at less cost to the public purse strings.
"I found it quite frustrating waiting, and I'm sure both Burnett and Maguire will be relieved to have that cloud of suspicion removed from them."
Stephen Maguire turned professional in 1998 and is currently ranked eighth in the world.
Jamie Burnett turned professional in 1992 and is currently ranked 39th in the world.