Glasgow Caledonian abandons compulsory redundancy plan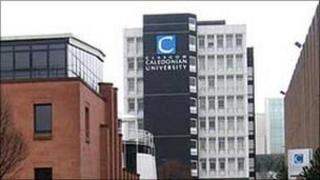 A Scottish university has removed the threat of compulsory redundancy from staff after making significant progress towards annual savings of £5m.
Glasgow Caledonian had been consulting on plans to cut up to 95 posts during a restructuring exercise to merge its six existing departments into three.
The university said it had achieved 95% of the savings target "through non-pay and voluntary means".
It hopes to meet the remainder through a vacancy freeze and redeployments.
Restructuring plans were unveiled in March, to merge the university's six existing departments - or "schools" - into three larger ones.
Those jobs most at risk in each department were in senior management, administrative and support services, and marketing and human resources.
Restructuring exercise
The university's combined union committee strongly opposed the plan and threatened to explore possible industrial action if the threat of compulsory redundancy was not lifted.
University management said on Wednesday it could now rule out that possibility.
Principal and vice-chancellor, Professor Pamela Gillies, said: "We are delighted to entirely remove the risk of compulsory redundancy from all parts of the university in relation to this necessary restructuring exercise.
"We are very grateful for the participation of so many staff in the consultation process and for the many ideas and positive contributions which have enabled us both to achieve these savings and to put further flesh on the detail of the proposed future structure of our university.
"Throughout this process we made a commitment to identify alternatives to compulsory redundancy and I am pleased that we achieved this well before the end of the statutory consultation period."