Banknote forger John Farrell ordered to give up cash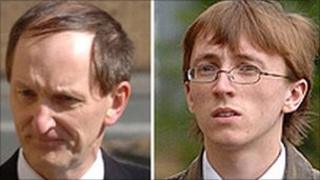 A convicted forger who ran a huge counterfeiting operation from a factory in East Kilbride has been ordered to hand over nearly £100,000.
John Farrell, 53, from Glasgow, was sentenced to nearly six years in jail for producing fake banknotes.
In total, police unearthed £185,000 of counterfeit money.
A confiscation order has been made against Farrell at the High Court in Edinburgh for £96,000, the Crown Office said.
Following the hearing, Lesley Thomson, area procurator fiscal for Glasgow, warned dealing in counterfeit currency was "not a victimless crime".
She said: "It can cause hardship and misery, particularly in difficult financial times.
"It is our duty to ensure that no one trying to profit from crime should succeed.
"We are determined to pursue any financial benefits gained from illegal activity."
In July 2009 Farrell was sentenced to five years and eight months for producing counterfeit notes at EWM Solutions, in East Kilbride.
When police raided the premises in February 2008 they discovered counterfeit Bank of Scotland £20 notes, fake Royal Bank of Scotland £20 notes and Bank of Scotland £10 notes and Royal Bank of Scotland £10 notes in various stages of completion.
Some of the counterfeit money had been used at a number of places in Newton Mearns and Glasgow.
His son Craig, who also admitted making the notes, was jailed for two years and nine months.