Colin McRae's widow in helicopter data recorder call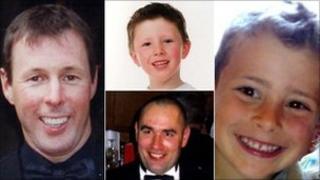 A helicopter piloted by rally car champion Colin McRae came down at high speed, a fatal accident inquiry has heard.
Air accident investigator Andrew Robinson told Lanark Sheriff Court that the pattern of wreckage and damage to trees suggested a high energy impact.
The helicopter crashed near Mr McRae's home in Lanark in September 2007.
The 39-year-old died along with his five-year-old son Johnny, Ben Porcelli, six, and 37-year-old Graeme Duncan.
The group had been returning to the landing strip at the McRae family's home after a short trip to a friend's farm.
Flight path
Mr Robinson told the inquiry that he was surprised at the area over which the wreckage was spread.
He said the pattern of wreckage suggested a high energy impact.
The air accident investigator also described damage to trees in the steeply wooded area where the helicopter came down.
He said this indicated that it was travelling at a fast speed before it crashed.
Mr Robinson was asked about the flight path of Mr McRae's helicopter before it crashed.
He said: "The flight was on a trajectory that really didn't make any sense.
"It raised questions as to why the helicopter was flying in that direction. It was virtually at right angles to the valley."
The investigator was also asked a series of questions about the mechanics of the aircraft.
He said it was highly unlikely that a helicopter, with thousands of hours of perfect service history, would suddenly and unexplainably suffer a technical fault.
The inquiry, which began in January but was postponed since March, continues.