Kelvingrove Park cinema cancelled over alcohol ban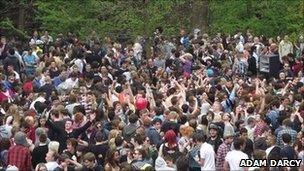 An open-air cinema event at Glasgow's Kelvingrove Park has been cancelled after the council refused to grant organisers an alcohol licence.
The Grosvenor cinema had planned four nights of open air screenings as part of the West End Festival.
However, they said that as their sponsors were a drinks firm, an alcohol licence would be needed for the event.
The decision follows the arrest of 22 people at an unauthorised party in the park on the day of the royal wedding.
Organisers of the cinema event said they had planned to show films including Mamma Mia, Dirty Dancing and the Rocky Horror Picture Show.
But Glasgow City Council said it could only go ahead if no alcohol was sold during the screenings.
In a statement on their website, the Grosvenor said: "We are desperately sad that Grosvenor Cinema in the Park is not able to take place but fully understand Glasgow City Council's reasons for its decision.
"We have been the victims of unfortunate timing and under different circumstances hope to make this extraordinary event happen in the future."
Ticket holders will be offered a full refund and a ticket for any screening at the cinema in June.
About 6,000 people turned up at Kelvingrove Park, on the day of the royal wedding, after the unofficial event was organised through Facebook.
Related Internet Links
The BBC is not responsible for the content of external sites.