Argyll beaver monitoring hampered by terrain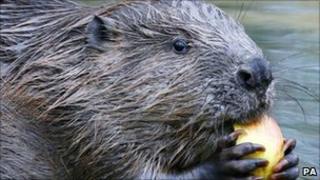 Efforts to monitor beavers released in Argyll are being hampered by the terrain, according to a new report.
The first animals captured in Norway were kept temporarily at the Highland Wildlife Park, near Aviemore, before being released in Knapdale in May 2009.
A total of 15 were introduced during 2009, but the report said only nine were believed to still be alive in the release area by June 2010.
Steep and heavily wooded terrain has caused problems tracking the beavers.
Researchers said some tags attached to beavers' tails were lost within two or three months of their release.
The tags helped monitor the animals using a system known as radio-telemetry.
Even when tags were on the animals, the report's authors said the landscape challenged this method of monitoring.
The first annual report on the Scottish Beaver Trial was commissioned by Scottish Natural Heritage (SNH).
The researchers said Knapdale's thick woods and steep ridges between its lochs and river systems presented "serious difficulties" to the transmission of radio signals.
The report said: "The most significant monitoring difficulties during the first year of the trial resulted from the use of radio-telemetry methods, and difficulties presented by the terrain and vegetation at the release site."
Trapping beavers from a boat, the preferred method for counting the animals in Norway, was also done in the first year of the project.
The report said trapping by boat would continue, but would be carried out after the welfare of the animals was taken into consideration.
A total of 15 beavers were released during the first year of the trial.
The annual report said two deaths were recorded in the wild, while a third animal that had been withdrawn from the programme died in captivity. All three were males.
Three females were classified as "missing" at the time of the writing of the report.
'Settled in'
However, the Scottish Beaver Trial reported in January 2011 that Knapdale has 12 beavers following the birth of two kits and further introductions.
Simon Jones, Scottish Beaver Trial Project Manager, said: "Our first beaver families were released two years ago as part of a five-year trial reintroduction, and are now very settled in their new home in Knapdale.
"Two beaver kits were born last year and we're hoping to see new kits emerging from their lodges this year in June or July.
"Due to the nature of wildlife projects and the terrain at Knapdale there have been some inevitable challenges which are to be expected, but we are very satisfied with how the trial, which is the first formal reintroduction of a native mammal to the UK, is progressing."
SNH said the difficulties posed by the terrain was not a surprise.
A spokesman added: "The first year of the project was used to refine the methodology of what was a complex monitoring effort.
"Most of the recommendations in the report are already being implemented."