Airdrie Savings Banks to open new Falkirk branch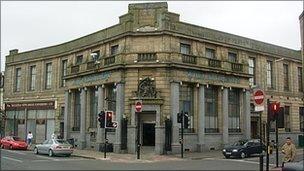 The UK's last remaining independent bank has announced it is to open a new branch in Falkirk.
The Airdrie Savings Bank is expanding out of its Lanarkshire homeland for the first time in its 175 year history.
Earlier this year the bank announced record lending figures.
The move is the first stage of an expansion plan being supported by a group of key Scottish business figures who deposited £10m into the bank last August.
The group includes Brian Souter, Ann Gloag, Ewan Brown, Alastair Salvesen and Sir Tom Farmer.
The new branch in Falkirk's High Street is due to open in September and will create five new jobs for the town.
Bob Boyle, president of Airdrie Savings Bank, said: "This is a very important step forward for the bank and the beginning of what we believe will be an exciting period of expansion for Airdrie Savings Bank.
"We have chosen Falkirk because the town offers similar demographics to our existing business, has a robust business sector and draws from a different catchment area.
"It is also close enough to our current operations without conflicting in any way to make the launch and day to day running very manageable."
He added: "We look forward to attracting considerable interest from personal and business customers seeking a traditional approach to banking."
Supporting the bank's expansion Brian Souter said: "This is an historic moment for the bank and I am delighted to see they are taking their traditional banking approach to another part of Scotland."
Airdrie Savings Bank currently has seven branches across Lanarkshire and employs almost 100 people.
Related Internet Links
The BBC is not responsible for the content of external sites.