Customs raid illegal tobacco 'factory' in Glasgow house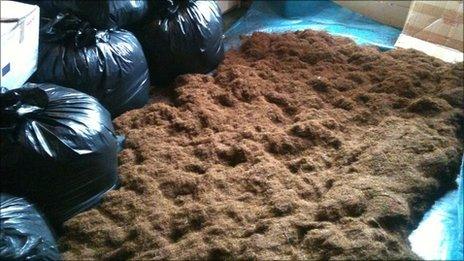 An illegal tobacco "factory" has been uncovered by customs officers during a raid on a house in Glasgow.
More than 198kg of tobacco worth about £38,000 in unpaid duty and VAT was seized from the property in the Govanhill area of the city.
About 17,600 smuggled cigarettes were also recovered.
In another joint operation with Strathclyde Police about 4,000 pouches of counterfeit tobacco were seized from a vehicle stopped on the M77.
They have an estimated street value of £50,440.
HM Revenue and Customs said the counterfeit tobacco originated in China and was of poor quality.
It was packaged in counterfeit 50g Golden Virginia pouches carrying small Benelux tax stamps to dupe the public into thinking the tobacco is genuine.
Michael Connolly, assistant director of specialist investigations, said: "Cheap tobacco may seem like a bargain at the time, but this tobacco was packaged in less than ideal conditions.
"Tobacco factories like this are packaging low quality tobacco and I would urge people to be wary. If you are offered tobacco at a price that seems too good to be true, then it probably is.
He added: "Tobacco smuggling is a serious crime. It undermines honest traders, putting their livelihoods at risk and damages our local economy.
"Anyone with information about the sale of cheap cigarettes or tobacco, can help us by calling the Customs' hotline on 0800 59 5000."
Investigations into the seizure were ongoing.
Related Internet Links
The BBC is not responsible for the content of external sites.