Scot Phil Campbell helps rebuild US namesake town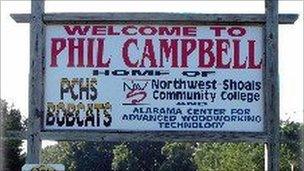 A Scot called Phil Campbell is teaming up with dozens of other Phil Campbells from around the world to help rebuild an American town with the same name.
Phil Campbell in Alabama was struck by the devastating tornadoes which ripped through several US states last month.
The town had already been planning a Phil Campbell convention to mark its 100th anniversary.
Now Phil, Philippa and Phyllis Campbells from across the globe will descend to help with the repair effort.
The town, which has a population of about 1,000, was named after an English railroad worker, born in Liverpool, who established a work camp near the site of the modern Phil Campbell in 1910, and built the town's rail depot.
The Phil Campbell Convention planned for 17-19 June was originally supposed to be a quirky event, as part of a year of 100th anniversary celebrations, complete with a hoedown, hog roast, brass bands and even a 5km race for all the Phils attending.
But after the tornadoes left much of the town in ruins and 25 people dead the organisers decided to get the Phils from across the world involved in helping to rebuild the community.
A website imwithphil.com was set up and has been raising funds which will be used to fix the high school, city hall and two housing developments.
Among those who will arrive in the town next month to help out is 30-year-old business consultant Phil Campbell, originally from Clarkston near Glasgow.
He told BBC Scotland he had already booked his flights before the tornadoes struck.
"This started off as something light-hearted, just a bit of fun and it just seemed like a really interesting and one-off event to get involved with," he said.
"That was pre-tornadoes. We now know that about half the town was destroyed, 400 buildings were damaged and a hundred homes destroyed.
"I am not sure if I will actually be really prepared for what it might look like," he said.
The Scot will travel to Alabama with a friend and along with other Phils, Phillipas, Philomenas and Felipes from England, Ireland, Jamaica, Australia and South America, will do what they can to assist with the ongoing work to restore the town.
He added: "We are trying to raise as much awareness as we can through the website and raise funds and sponsorship.
"When we are actually there we are trying to raise enough money to work with the charity Habitat for Humanity to build a house."
Between 30 and 50 Phil Campbells are expected to converge on the town and the Scottish Phil Campbell admits that might prove problematic.
"It is going to get confusing, especially when it comes to hotel rooms and booking taxis. Things like that aren't going to be particularly easy," he said.
Related Internet Links
The BBC is not responsible for the content of external sites.