Onthank residents' anger at The Scheme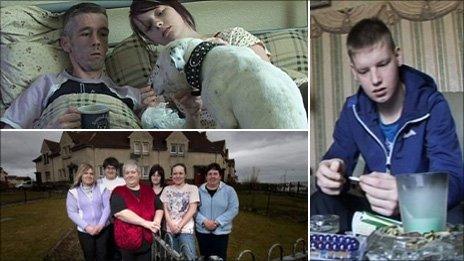 BBC television's fly-on-the-wall series "The Scheme" has been condemned as poverty porn, and praised for shining a light on deprivation.
As the series comes to an end, BBC Scotland's Huw Williams talked to people from Onthank in Kilmarnock about how the programme depicted the area.
As I stood on the neat and tidy streets around Onthank primary school stopping passers by, most people guessed why I was there as soon as they spotted my microphone and radio recorder.
"Is it about The Scheme?" almost everyone asked. Some people grinned as they said it. Others rolled their eyes, or grimaced.
One man was happy to discuss the programmes, and how they had depicted Onthank. But he didn't want his comments recorded. "Too dangerous", he told me.
A few others didn't want to talk to me at all. But everyone who did stop was unanimous.
Patricia put it most starkly of all. The series had been "horrendous", she said.
The majority of people in Onthank are not like the characters featured on the show, she insisted.
That was a theme that was to recur again and again.
Mick complained that the film makers had featured "too many junkies jagging up (injecting themselves with heroin), and that isn't good for the area".
And Terry and Peter complained that "they showed all the worst of people".
They accepted that drugs and deprivation are a part of life for some in Onthank.
But "they did not have an equal balance of people that are upstanding in the community. They did not show the goodness of the place".
Rachel, a member of one of the local churches, complained that the films had not featured anything positive.
She said: "We've got nothing from the churches which work together. There's nothing of the schools. There's nothing of anything that goes on within the community."
So what would she have included, if she'd been making a series about Onthank?
"I would show the negative bits, but I would also show the positive bits. The amount of stuff that goes on in the community is huge, and it's not fair that they just showed the bad bits."
As she spoke, Rachel's voice trembled with emotion.
"I'm angry, very angry", she explained.
So was the series just voyeuristic? Or did it helpfully illuminate dark corners of Scottish life that more people ought to know about?
Peter Kelly, of the Poverty Alliance, told BBC radio's "Good Morning Scotland" programme there is a danger of presenting poverty as a "spectator sport".
"We've looked into very troubled and very difficult lives of people," he said.
"But we haven't really seen that in the context of what else is going on in those communities, where people are changing and things are getting better."
He complained that the programmes had focused on "entertainment value, rather than the desire to highlight the realities (of life)".
But Laurie Russell from the Wise Group, which works to get people off benefit and into employment, saw some positives from the series.
"I think it does highlight the issues to a group of people that won't come across that kind of individual or family in their daily lives," he said.
Back in Onthank, even the people who complained about "The Scheme" admitted they had all watched it.
Caroline laughed, as she realised that might sound a bit odd.
"Everybody wants to watch it. It's a talking point. You've got to see what's getting said, and what's happening, and stuff."
She agreed the programmes had been gripping, compelling viewing.
"I watched it out of nosiness, I suppose. But a lot of the good people, my neighbours, that love Onthank are annoyed about it."