Preparations 'on track' for Glasgow 2014 Games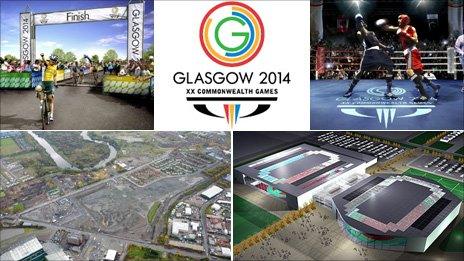 Preparations for Glasgow's 2014 Commonwealth Games are "firmly on track", according to the event's organising committee.
In its first progress report, the committee said venues were starting to take shape and key infrastructure was being put in place.
The total cost of the Games is now expected to be about £523.6m.
Earlier this year concerns were raised about funding cuts threatening the Games' legacy.
The progress report said extensive work had already been put in place to develop and deliver a lasting social, economic and sporting legacy.
Glasgow 2014 is being delivered in partnership with Commonwealth Games Scotland, the Scottish government and Glasgow City Council.
March this year marked the half way point since it was announced that the city had won the right to host the 2014 Games.
The report said almost £30m had been spent to date on planning and preparations.
It forecast that a further £40m would be spent in 2011/12.
It also said the organising team, established in 2008, now included 50 people and was moving from its current base in George Square to newly refurbished premises in Albion Street in Merchant City.
The report said progress was "well under way and on schedule."
"Policies, strategies and budgets have been established along with all the relevant milestones which will ensure that Glasgow is ready to host the Games on time and on budget," it said.
The report highlighted how work on venues such as the National Indoor Sports Arena and the Sir Chris Hoy Velodrome complex was progressing.
It said work was also under way to build the first phase of the Commonwealth Village in the city's east end, which will provide accommodation and facilities for 6,500 competitors.
It also outlined how the completion of key infrastructure projects like the M74 extension and the Airdrie to Bathgate rail ink would benefit the Games.
The report said the Games partners were already working to create a "lasting legacy."
It highlighted the opening of the Toryglen Regional Football Centre and the redevelopment of Scotstoun stadium as examples of this work.
It also said that more than a third of the Commonwealth Games related contracts and sub-contracts awarded up until December 2010 had been won by Glasgow companies.
Related Internet Links
The BBC is not responsible for the content of external sites.